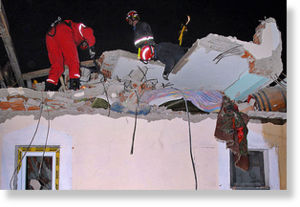 A 5.4-magnitude earthquake has struck central Serbia, killing two people and leaving at least 50 others injured, officials said.
The European Mediterranean Seismological Centre said the tremor struck near the city of Kraljevo, which lies around 150km south of the capital Belgrade, in the early hours of Wednesday.
A couple reported to be in their 50s were killed when their roof collapsed during the quake.
Ivica Dacic, the country's interior minister said "material damage to the area is big" and that emergency teams and police had been deployed for rescue operations.
"The most important thing is that people calm down, that there is no panic and that the city authorities function," he said.
Electricity and other services have been cut in the city, which has a population of 70,000 people, while witnesses reported damage to buildings, including the local hospital.
"The town is littered with debris. Some older houses are destroyed completely," Milica Lazarevic, 40, a dentist from Kraljevo, told the Reuters news agency.
"My street and perhaps half of the town have no phones, water and electricity," she said.
The quake was felt across the country, including the capital Belgrade about 150 kilometres north of Kraljevo.
The Serbian seismological institute said it was followed by four other less powerful aftershocks.