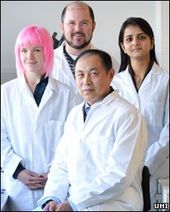 A team of researchers at Inverness, Scotland's UHI have confirmed a connection between gluten and schizophrenia. The team's work is part of two projects designed to assess what role gluten might play in the development of schizophrenia and diabetes.
Findings from their latest research demonstrate that about 30% of people who suffer from schizophrenia cannot properly break down the proteins found in wheat, rye, and barley gluten. When these people eat gluten, they suffer from intestinal damage similar to that found in people with untreated celiac disease. Such patients "might also benefit from a gluten-free diet," according to senior researcher and genetics reader, Dr Jun Wei.
According to the team's research, gluten proteins might play a role in activating schizophrenia in people who carry genes for the disorder, or in aggravating the condition in those who already suffer from it.
These results support the growing view that schizophrenia and diabetes arise from a combination of genetic factors and environmental triggers; gluten being one such trigger.
The early results are promising because, if correct,notes head of UHI department of diabetes and cardiovascular science, Prof Ian Megson, they point to a day when, for some people, "a simple change in diet might prevent these diseases."
The UHI studies are supported by a £300,000 grant from the Schizophrenia Association of Great Britain.