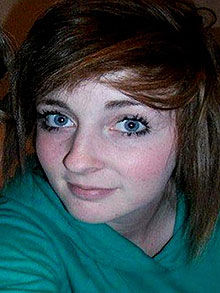 A 15-year-old schoolgirl was battered to death with a house brick after going to meet a former boyfriend.
The body of Rebecca Aylward, described by friends as "kind and quiet", was found dead in woods after her family reported her missing.
The teenager had been struck repeatedly in the attack which left her with fatal head and neck injuries.
Two 15-year-old boys were arrested on suspicion of murder and are being held in custody.
Rebecca was last seen alive on Saturday when relatives gave her a lift to her boyfriend's home.
She was due to return home that evening but her mother Sonia Oatley, 49, raised the alarm when she failed to turn up.
Police began a search and Rebecca's body was found at 9am on Sunday morning.
Her aunt Leanne Oatley said on Facebook: "I can't believe they took our precious princess away from us. They will get what is coming to them.
"You will never be forgotten RIP Becca. Love you always, sleep tight til we see you again."
Rebecca, known to her friends as Becca, lived with her mother in a terraced house Maesteg, near Bridgend, South Wales. Her body was found six miles away on the outskirts of Aberkenfig.
Rebecca attended the 720-pupil Archbishop McGrath Comprehensive School near Bridgend where she was due to sit her GCSEs next summer.
The chairman of the governors, Fr William Isaac said: "We are all deeply shocked and saddened by what has happened.
"Our love, thoughts and prayers go out to Rebecca and her family and friends at this very sad time."
Rebecca, who had a younger sister Jessica and a brother Jack, broke up for half term last Friday and her friends believe she arranged to meet up with her former boyfriend.
Her friends said she was upset when she broke up with the boy and had wanted to get back together with him.
The schoolgirl's estranged parents John Aylward and Miss Oatley were being comforted by family and friends yesterday.
Rebecca's classmates laid flowers near where she was killed.
One card said: "Becca, I can't believe something like this could happen to such a kind, quiet girl.
"I have known you for 12 years and it won't be the same at school without you.
We will miss you so much. You're gone but never forgotten. Love from Lauren."
A family friend said: ""She was an absolute delight; good at English, and so polite and well spoken. It is heartbreaking."
Derek Lewis, who has lived near the woods for 40 years, said it was a popular haunt for local youngsters.
Mr Lewis, 52, said: "It's a regular place for youngsters to go. I've seen them going in there after dark and you can hear them laughing."
A local councillor, Phil White, said: "My thoughts go out to the family, this is devastating for them.
"This is a small community and the community will be choked hearing this news."
Detective Superintendent Paul Burke said: "Our thoughts are with Rebecca's family, who are naturally devastated.
"A murder investigation is underway and I would appeal for anyone with information to please contact the incident room."