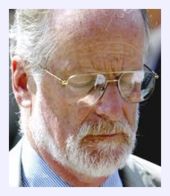 The British whistleblower who was behind revelations that the UK government had "sexed up" a dossier on Iraq before the 2003 invasion did indeed commit suicide, say newly-released medical reports.
But at least some of the doctors who have called for a full inquiry are skeptical of the results, arguing there is "nothing new" in the years-old post-mortem reports the British government released Friday morning.
Dr. David Kelly was found dead in a field near his home in Oxfordshire in 2003, shortly after he was revealed to be the source of a BBC leak that accused Tony Blair's government of exaggerating the threat posed by Saddam Hussein. His death prompted suspicions among many that he may have been killed in retaliation for the leak.
Kelly himself had predicted he would be "found dead in the woods" if the UK invaded Iraq.
A 2004 inquiry by Lord Hutton concluded that Kelly had died of self-inflicted wounds, but Hutton sealed the medical examinations that led to that conclusion for 70 years, ostensibly to protect Kelly's family. The move intensified suspicions of a government cover-up in Kelly's death. Earlier this year, Britain's new coalition government ordered the documents unsealed.
"Today's reports undermine those who have questioned the official version of events, as the conclusions of the postmortem examination by Dr Nicholas Hunt matched those in Hutton's original report,"
reports The Guardian
.
But not everyone is convinced. Michael Powers, one of nine doctors who earlier this year signed a letter calling for a new, full inquiry into Kelly's death told the BBC there is "
nothing new
" in the documents and
there continues to be "major conflict" over how much blood was found at the scene of Kelly's death
.
"I don't believe any of the evidence that we have seen or heard to date can answer those questions," he said.
In August, the detective who found Kelly's body said there "
wasn't much blood about
" at the scene. That would contradict the conclusion that Kelly had died by slitting his wrists, which usually results in large amounts of blood spilling.
The doctors' group said it was "extremely unlikely" that Kelly had died by his own hand
.
"Insufficient blood would have been lost to threaten life,"
they said
. "Absent a quantitative assessment of the blood lost and of the blood remaining in the great vessels, the conclusion that death occurred as a consequence of hemorrhage is unsafe."
But one of the reports released Friday stated that there was "heavy bloodstaining over [Kelly's] left arm" and a two- or three-foot long blood puddle next to him.
"It is my opinion that the main factor involved in bringing about the death of David Kelly is the bleeding from the incised wounds to his left wrist," stated a report from Dr. Nicholas Hunt. "Had this not occurred he may well not have died at this time."
There is also controversy over whether Kelly's body was moved to a different location after it was discovered. A paramedic who was at the scene said last month that the body had "
obviously
" been moved, which would have explained why there was so little blood at the scene, as at least two witnesses claim.
"I've seen more blood at a nosebleed than I saw there," the paramedic said.
"There is no evidence from the postmortem or my observations at the scene to indicate that the deceased had been dragged or otherwise transported to the location at which his body was found," Dr. Hunt's report concluded.
Prior to his death, Kelly was reportedly upset at the treatment he had received from the British government, which had evidently identified him publicly as the source of the BBC leak.
His widow, Janice Kelly, said he had felt "totally let down and betrayed" by the UK Ministry of Defence. "I have never known him to be as unhappy as he was then,"
she said
.
In the wake of the documents' release, Britain's attorney general, Dominic Grieve, is "considering whether there is evidence" for a full inquest into Kelly's death.