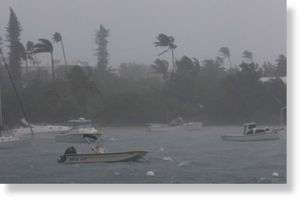 Fierce waves pounded the breakwaters and shores of Bermuda on Sunday, straining yacht moorings and battering oceanfront hotels as Hurricane Igor lashed the wealthy British enclave.
Bermudians battened down their homes in pelting rain to wait out Igor, a Category 1 hurricane with maximum sustained winds of 80 mph (130 kph). Some storm-seasoned islanders ventured outside to gawk at the 15-foot (5-meter) surf or to triple-tie boat moorings even as officials warned them to stay indoors.
"We are urging residents to please go home and stay in until it is all over," said government spokeswoman Beverle Lottimore.
Those who did venture outside were met with howling winds, and gusts of hurricane force were reported by midday. Flooding was reported in low-lying areas and streets in downtown Hamilton, the capital, were covered in several inches of water and littered with tree branches and other debris.
Igor's eye was expected to pass over or very close to Bermuda late Sunday, according to the U.S. National Hurricane Center in Miami. But with hurricane-force winds extending up to 90 miles (150 kilometers) from the storm's eye, even a near-miss could cause substantial damage.
The storm was expected to veer northeast - away from the United States - after passing Bermuda. But forecasters said it would continue causing high surf and strong rip currents along the U.S. eastern seaboard.
Most tourists hopped on flights home before the airport closed Saturday afternoon, but Elaine and Brian LaFleur of New Bedford, Massachusetts, said they actually changed the date of their flight so they would make it to Bermuda in advance of Igor. They wanted a new experience for their 28th trip to the island.
"We've done everything else on this island, but we've never experienced a hurricane," said Elaine LaFleur, 62.
The couple's original itinerary had them arriving Sunday but they flew in Friday.
Brian LeFleur, 66, said the couple was staying busy indoors playing games on their iPad. He had hoped to watch Sunday football but the cable television at their hotel in downtown Hamilton lost its signal.
Bermuda's power utility reported that roughly 19,500 customers were without electricity by Sunday evening on the British territory of 68,000 inhabitants.
Some Bermudians were optimistic that a weakened Igor, which was downgraded to a Category 1 hurricane overnight, would spare the Atlantic territory serious damage.
"We prayed that the storm would be downgraded, and it looks like our prayers have been answered," said Fred Swan, a 52-year-old teacher.
But as the hurricane bore down, most islanders hunkered down in their homes and listened to the howling winds and cracking thunder outside.
School principal Marion Dyer, 47, said she holed up with her 8-year-old daughter and two others after losing power around dawn, when Igor's outer bands began severely whipping Bermuda.
"Now and again we get bursts of wild wind which sends the rain in all directions," Dyer wrote in an e-mail to an AP reporter. "We have heard several rolls of thunder which are becoming more frequent."
Premier Ewart Brown said islanders "have been forced to recognize that the ocean is not so vast and Bermuda not so unique as to be separated from the awesome power of nature."
Some islanders checked into resorts to ride out the storm. At the Fairmont Hamilton Princess hotel near the capital's downtown, about half of the 410 rooms were occupied, said Jonathan Crellin, the hotel's general manager.
"The hotel is locked down tight and ready to take Igor when he arrives in full," Crellin said from the hotel, which like most buildings in the territory is built of solid concrete.
High surf kicked up by the storm has already swept two people out to sea in Puerto Rico and the U.S. Virgin Islands, far to the south.
By late afternoon Sunday, Igor was steaming north at 15 mph (24 kph), according to the U.S. hurricane center.
Forecasters said the storm could drop 6 to 9 inches (15 to 23 centimeters) of rain over Bermuda and cause significant coastal flooding.
Steve Gibbons and five relatives ventured out on foot to Somerset Bridge, where high winds whipped the sea over the bridge and made it difficult to stand up straight.
"Later on, we'll be inside hunkered down," Gibbons said while bracing himself against the gusting wind.
Hotel cancellations were reported across Bermuda, popular with tourists for its pink sand beaches and with businesspeople as an offshore financial haven.
A causeway linking the main island with St. George's parish was closed, along with the L.F. Wade International Airport. Officials said schools would be closed Monday and Tuesday, and a local newspaper canceled its Monday edition.
Bermuda's building codes specify that homes must be built with walls at least eight inches thick, and be able to withstand 150 mph (241 kph) gusts and sustained winds of 110 mph (177 kph). Some power and phone lines are underground.
In Mexico on Sunday, officials raised to 12 the death toll from Hurricane Karl, which made landfall on Mexico's Gulf Coast on Friday and soaked Veracruz, Puebla and Tabasco states in the south-central part of the country.
At least 30,000 people were displaced by flooding and landslides in Veracruz alone, according to a report from the Civil Protection agency.
Gov. Fidel Herrera said 125 municipalities were in a state of emergency.
Far out in the Atlantic, Tropical Storm Julia was weakening and not expected to threaten land.