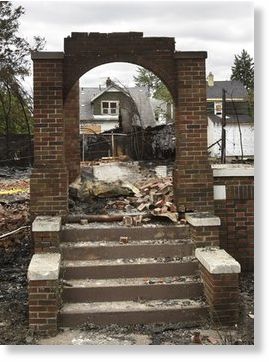 Wind-whipped flames swept through at least three Detroit neighborhoods, destroying dozens of homes, including many that were vacant, and even sending waves of searing heat blocks away, officials said.
A thick odor of smoke filled the air Wednesday after the roaring fires, fanned by winds of up to 50 mph, jumped from house to house Tuesday night. No injuries were reported.
There were about 85 fires at homes and garages over a four-hour period, said Dan Lijana, spokesman for Mayor Dave Bing.
"It was a freakish day - the wind was tremendous," said City Council President Charles Pugh.
Residents complained of a slow response by the city's emergency responders, but Pugh said the fire department did its best with the resources available.
Detroit fire Capt. Steve Varnas told the Detroit Free Press that some fires may have been caused by dead tree limbs being blown onto power lines. At least one electric company launched an investigation into possible ties between the blazes and its lines.
On Detroit's northwest side, four brick bungalow and Tudor-style homes were gutted; two had only chimneys remaining. Neighbors, utility and cable workers stood outside surveying the damage, while the Red Cross counted displaced families.
"My garages were burning. It was a big fireball," said Kevin Mays, 45, whose two vacant homes suffered minor damage. His three cars and two motorcycles inside the garages were wiped out by the flames.
"It's going to be a big hole in the neighborhood," he said. "The neighborhood won't be the same."
Another resident, Estralita Jamal, said the fire gutted part of her community.
"It looks like a war zone. The whole block is just gone. It's just gone," she told WXYZ-TV.
Louvenia Wallace, 31, a hair stylist and mother of three, told the Free Press that she saw "blankets of smoke everywhere and the next thing I know everybody's house was in fire."
The National Weather Service said a cold front passed through Detroit with no rain, which is unusual.
"The really dry air along with high wind - that would have been favorable for a fire to spread," meteorologist Bryan Tilley said.
Latosha Staples, 43, could feel the heat from her porch two blocks away from a pocket of fires.
"It felt like you were in the fire. That's how hot it was. It was terrible," Staples said.
DTE Energy Co. spokesman John Austerberry said the utility was investigating possible links between its lines and the fires. DTE and utility CMS Energy Corp. said more than 120,000 customers lost power late Tuesday, although service was restored to many by the following morning.
"Throughout the whole city, the same thing is happening: Wires down everywhere," Varnas said.
Alonzo Rush, 62, a retired auto worker, said it took 90 minutes for a fire truck to arrive, by which time several homes were aflame.
"We called. All the neighbors called, but we didn't get an answer at 911. ... We're not getting the services we once had and what we're paying for," Rush said.
Pugh downplayed concerns that the struggling city's fire department was too poorly equipped to respond.
"That would have been a difficult day for the fire department if we added $100 million to the fire department budget," he said.
Firefighters from half a dozen neighboring agencies assisted the Detroit fire department, WXYZ-TV reported.
Rush's northwest side neighborhood is one of the most stable in Detroit. Most houses are brick and the properties are well-kept. But several miles to the east on Robinwood, the heaviest fire damage was to vacant houses already in poor condition.
Some houses are separated by vacant lots where homes once stood. The neighborhood is among Detroit's most desperate.
Bing said he was awaiting a report about the severity of the fires, WWJ radio reported. He told Detroit City Council members that many of the burned homes were "livable."
"You've now got families that have been displaced and so I think it's incumbent upon us to make sure we give those families the kind of support they need at this time, whether it's Red Cross or other community based organizations," Bing told WWJ.
Photos from Detroit fires