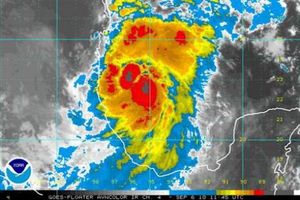 Tropical storm Hermine has formed in the Gulf of Mexico and warnings have been issued from Tampico, Mexico to the Baffin Bay on the south Texas coast, the National Hurricane Center said on Monday.
Hermine, the eighth tropical storm of the season, carried maximum sustained winds of 40 mph was located about 190 miles east-southeast of Tampico, Mexico. it was moving north at 8 mph.
U.S. forecasters said it was expected to turn toward the northwest and increase in speed on Monday.
"The center of Hermine is expected to approach the coast of northeastern Mexico or extreme southern Texas in the warning area early Tuesday morning," the Miami-based hurricane center said.
The storm was expected to produce rainfall of 4 to 8 inches over northeastern Mexico and into south Texas, with a maximum of 12 inches possible in some areas.
The Mexican government on Sunday issued a tropical storm warning for the Gulf coast from Tampico to the border with Texas.
In its last advisory on Sunday, the hurricane center said Tropical Storm Gaston looked very likely to strengthen again as a tropical cyclone in the Atlantic and could threaten the Caribbean's Leeward Islands in coming days on a westward track.
The National Hurricane Center gave Gaston, which weakened to a remnant low-pressure area on Thursday soon after becoming a tropical cyclone, an 80 percent chance of redeveloping over the next 48 hours.
Meteorologist Jeff Masters of private forecaster Weather Underground predicted Gaston would pass over or just to the northeast of the Lesser Antilles Islands early on Tuesday.
"Gaston may threaten Puerto Rico on Wednesday, the Dominican Republic on Thursday, and Haiti, Jamaica and/or the Turks and Caicos Islands by Friday, depending upon the storm's interaction with a trough of low pressure expected to move off the U.S. East Coast later this week," Masters wrote in a blog posted on Sunday.
Energy traders keep a close eye on potentially violent storms approaching the Gulf because it is home to about 30 percent of U.S. oil production, 11 percent of natural gas production and more than 43 percent of U.S. refinery capacity.
The hurricane season runs from June 1 through November 30 and is currently in its peak period.