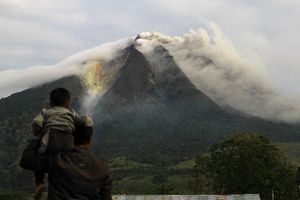 The number of evacuees in volcano eruption in Indonesia climbed to over 21,000 on Monday and was expected to rise, spokesman of National Disaster Management Agency Priyadi Kardono said.
The rise of over 9,000 evacuees from that on Sunday has caused overload on shelters, the spokesman said.
Some of the evacuees have suffered from diseases, he said.
"The problems at the shelters now is overload and it may become severer as the people keep flocking on the refugee centers. Besides some of the evacuees have got disease, most of them have respiratory problem," Priyadi told Xinhua by phone.
The quick eruption of mount Sinabung on Sunday has led the authorities made an instant preparation, said Kardono.
Several buildings have been used for shelters so far, he said.
Emergency aids have reached and been underway to the place where evacuees gather.
The agency has sent over 500 million rupiah funds (some 56,179 U.S. dollars), Health Ministry has also sent funds and Ministry of Social Affair will send logistic, said Priyadi.
Mount Sinabung re-erupted on Monday morning, after the authorities issued red top alert following the first eruption on Sunday.
Head of Volcanology Agency named only Surono has said that the agency will closely watch the volcano and has recommend those living in the radius of six kilometers to escape from the area before the agency downgrade the alert status of the mount.