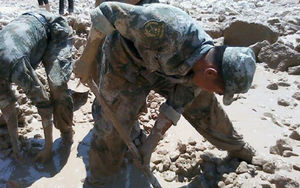 Landslides triggered by torrential summer rains in northwest China killed 127 people and left 2,000 missing in the latest of a series of flood-related disasters to befall northern China where the heaviest rains in a decade have now cost more than 1,400 lives.
A small county town in a hilly area of Gansu province was smashed by a wave of mud and debris shortly after midnight on Saturday, according to local reports, with cars being swept down streets that were instantly turned into rivers.
In parts of Zhouqu town the mud reached as high as the third storey of buildings, with many other smaller single-storey lifted from their foundations by the force of the landslide, according to China Central Television, the state broadcaster.
A nearby village of 300 households was also inundated.
"Many single-story homes have been wiped out and now we're waiting to see how many people got out," one resident of Zhouqu, a merchant called Han Jiangping said.
China's premier Wen Jiabao travelled to the town, which has a population of 40,000, while nearly 3,000 troops were dispatched to assist with rescue efforts on Sunday morning that were hampered by a metre-thick layer of sludge deposited by the waters.
"The sludge has become the biggest problem to rescue operations," said Diemujiangteng, the head of Zhouqu county who goes by a single name, "It's too thick to walk or drive through."
The disaster is the latest to hit north Asia where floods have killed 1,600 in Pakistan and an unknown number in the Indian state of Jammu and Kashmir.
North Korea has also reported widespread damage from flooding on its northern border with China, with thousands of houses and irrigation channels destroyed, while flash floods have also killed at least 132 people in the Himalayan region of Ladakh.
Before this weekend's landslides in Gansu, China's civil affairs ministry said that 1,454 people had died in floods in recent weeks and, another 669 were still missing. More than 12 million had been evacuated from their homes, with total damages estimated at nearly £30 billion.
Zhouqu county, with about 135,000 residents, is a sparsely populated area with often bare, deforested hillsides where ethnic Tibetan herders and farmers who form about one-third of the population graze animals.
The landslide was triggered after a night of heavy rain saw large concentrations of water backing up in the town's Bailong River, which flows through a narrow valley and had become partially blocked by an earlier landslide.
On Sunday the floodwaters were starting to recede after explosives were deployed to blast the debris blocking the river, the China News Service said, but further heavy rain was forecast for the upper reaches of the river on Tuesday and Wednesday.
The season's unusually severe floods in northwestern China are the latest in a series of extreme weather events to hit the country. Only three months ago millions of people in southwestern China were left short of drinking water after the worst drought in 50 years.