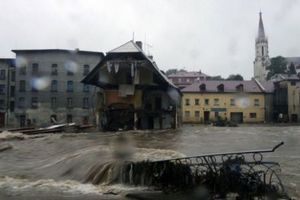 At least ten people have been killed and thousands of others have been evacuated as heavy rain and flooding disrupt traffic and cause power outages in central Europe.
Polish officials announced on Sunday that at least three people have been killed after rivers overflew and a dam burst, submerging towns in southwestern Poland.
"We had no warning. In less than an hour our town was totally inundated up to the first floor, many houses collapsed and we were cut off from the world,"
mayor of Poland's southwestern city of Bogatynia, Andrzej Grzmielewicz told TVN24news channel.
"We need amphibious vehicles and helicopters to help evacuate at least 2,000 flood victims," he added, calling on people to help the victims with blankets and food.
Torrential rain has also drowned four Czech nationals in a region bordering Poland and Germany on Saturday.
At least 1,000 people were forced to evacuate their houses and people of Chrastava and Frydlant were rescued by military helicopters from the roofs of their homes.
The bodies of three people drowned in a cellar have been found in Neukirchen near Chemnitz, southeastern Germany.
In Germany, some 1,400 people were evacuated from the town of Goerlitz, on the border with Poland.
Poland was hit by major spring and summer flooding which claimed some two dozen lives and caused widespread property damage.