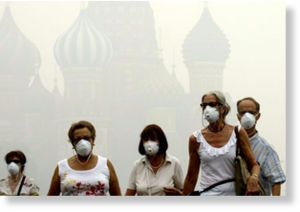 Wildfires continued to spread throughout central Russia Saturday as smog consumed Moscow, raising health concerns for residents of the Russian capital.
290 new wildfires were reported in the last 24 hours, and weather forecasters said that Russia's heat wave would continue for several more days
.
Meanwhile,
pollutants in the Moscow smog have risen to dangerously unsafe levels. carbon monoxide levels are 6.6 times higher than acceptable, and tiny invisible particles from the fires are present in concentrations 2.2 times higher than normal levels
, according to state air pollution monitoring service Mosekomonitoring.
The smog, which can be seen from NASA space images, has crept into homes, business offices, and even the underground Moscow metro.
"
The situation is truly extreme. People are in circumstances under which they should not have to live
," Russian doctor Ivan Yurlov told the
Kommersant
daily.
Many residents are trying to escape the city as quickly as possible to avoid the smog. Package tours abroad have been sold out, and news agencies said that there has been an increased demand for train tickets and planes out of the capital.
But flights from Domodevodo, one of Moscow's main airports, have been affected by the smog. About 40 flights have been cancelled and a dozen have been delayed, according to state aviation committee Rosavitsia.
Those who have chosen to stay in Moscow have been wearing protective breathing masks to protect themselves, and drivers have had to turn their brights on just to see through the smog.
Germany closed its embassy until further notice, and the U.S. State Department is urging travelers to reconsider their plans.
In addition, Russia moved its soccer friendly with Bulgaria to Saint Petersburg to protect the health of the players, and two other matches were cancelled.
52 people have been confirmed to have died from the fires. Russian officials are sending workers to blaze sites to monitor the situation, and Russian President Dmitry Medvedev has opened a fund to help fire victims.