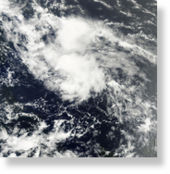 A revised 2010 hurricane forecast is in from the National Weather Service, and the agency is predicting another strong year for tropical storms. Four to six 'major hurricanes' are expected out of 14 to 20 named storms.
The 2010 hurricane season in the Atlantic, now heading into its most active three month stretch, stands a strong chance of becoming the 11th above-normal season in the past 15 years, according to federal forecasters.
June and July were less active than the National Weather Service's Climate Prediction Center expected them to be when it issued its initial seasonal forecast in May, notes Gerry Bell, who heads the effort.
But conditions in the Atlantic's main hurricane-forming region are ripe enough to suggest the season's typical August-to-October peak will be very active. The CPC says there is a 70 percent chance that the season will log 14 to 20 named storms, eight to 10 hurricanes, and four to six major hurricanes -- storms of Category 3 or higher, with top sustained winds in excess of 111 miles an hour.
The updated seasonal outlook is similar to the prediction the CPC released in May, with two to three storms shaved from the high end of its ranges to account for hurricane Alex, as well as tropical storms Bonnie and Colin.
Colin looked to be a short-term concern. It rose from a tropical depression to a tropical storm, then was demoted again, in the space of two days earlier this week. But forecasters at the National Hurricane Center now give the remnants of Colin, hovering just northwest of Puerto Rico, a 70 percent chance of regaining tropical storm status over the next 48 hours.
Despite the changes, "we're still predicting a very active hurricane season," Dr. Bell said during a press briefing Thursday.
Three factors are driving this year's forecast, Bell says.
The Atlantic basin is deep into a period of seasons more active that normal. This cycle shifts every 25- to 40 years between stronger- and weaker-than-normal seasons.
In addition, this year the ocean temperatures in the Atlantic's hurricane nursery have hit record highs. Tropical cyclones feed off of warm water. The last time temperatures in this region set a record was in 2005, the year hurricanes Katrina and Rita devastated the Gulf Coast.
Finally, La Nina is building in the tropical eastern Pacific. The climate pattern - El Nino's sibling - shows up as a large pool of cooler-than-normal seas in the central and eastern Pacific. This temperature shift tends to reduce differences in wind speed and direction with altitude in the Atlantic, thus reducing the destructive effect those winds can have on nascent tropical cyclones.
These factors tend to peak in mid-August, Bell says, adding, "That's when the action revs up."
Combined with favorable wind patterns coming off of Africa, these conditions "set up a favorable environment for systems to form and strengthen," Bell says.
The CPC's updated seasonal forecast dovetails with a new outlook released Aug. 4 by a team at Colorado State University. Colorado State's forecast calls for 18 named storms (which include Alex and Bonnie), 10 hurricanes, and five major hurricanes.
Unlike the CPC, the university team, led by atmospheric scientist Phil Koltzbach, produces broad forecasts for landfalling storms. The entire US East Coast, including the Florida Peninsula, faces a 50 percent chance of at least one storm making landfall there, compared with a long-term average of 31 percent. The Gulf Coast, which is still working to mop up after the BP oil rig blowout, faces a 49 percent chance of at least one storm striking, compared with a long-term average of 30 percent, Dr. Klotzbach's outlook indicates.
Although the CPC doesn't make those kinds of official predictions, Bell notes that during very active seasons, such as the one his group is forecasting, "the threat of multiple hurricane strikes goes up significantly for both coastlines."
On average, 90 percent of very active seasons see at least one storm make landfall along the Atlantic Coast, he says, while 80 percent of these seasons lead to at least one strike on the Gulf Coast.