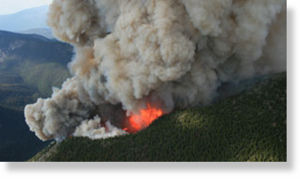 The number of wildfires roaring throughout British Columbia climbed to more than 400 on Tuesday, with officials predicting the tally will rise as the province is plagued by hot, dry conditions.
"We don't anticipate any significant decrease in fire activity in the coming days," fire information officer Gwen Eamer said in an interview. "We expect to continue to pick up in the range of 50 fires every day."
Eamer said 183 new wildfires were reported during the B.C. Day long weekend. Since the beginning of the year, more than 760 square kilometres of land has been damaged or destroyed by fire.
B.C.'s Cariboo region in the centre of the province was hit especially hard Tuesday as lightning sparked a rash of new fires and helped the spread of others.
The largest wildfires in that region were near Meldrum Creek, 15 kilometres west of Williams Lake, and Pelican Lake, southwest of Prince George. Those fires measured 75 square kilometres and evacuation orders were in place because of their proximity to buildings.
"We have a number of ... active fires in the Cariboo that are threatening communities at this time, so those are our primary concern," said Eamer.
She said another fire that forced residents from their homes in the Yalakom Valley was also a concern.
Smoke from the Meldrum Creek fire could be seen in nearby communities. About 200 firefighters tackled the blaze, along with 10 helicopters. About 22 firefighters fought the Pelican Creek fire.
Evacuation orders remained in effect for two other fires in the Cariboo region: one near Alexis Creek, the other at Dog Creek.
Eamer said fire officials expected to receive some help from the weather soon, but it won't be much.
"There's the potential for scattered showers in the forecast across the Cariboo, but what we really need is a sustained heavy rain and we're not seeing that," she said.
Ground crews were forced off one of B.C.'s single biggest fires for safety reasons Tuesday after the blaze grew to 110 square kilometres just south of the Yukon border along Highway 37.
The fire forced the closure of the road linking the province and the territory.
Two pilots were killed in B.C. on Saturday when their air tanker crashed while fighting a blaze south of Lytton. The Transportation Safety Board said Tuesday it appears the pilot of the aircraft lost control and went into the ground nose first.