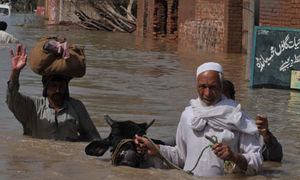 Access blocked to areas in Khyber-Pakhtoonkhwa as authorities try to rescue 27,000 people trapped after heavy rains
The death toll from floods in north-west Pakistan has risen to 1,100 people, an official said today.
Adnan Khan, a disaster management official, said the toll could rise further, as there were areas in Khyber-Pakhtoonkhwa province that rescue workers had not been able to access.
Authorities are struggling to save more than 27,000 people still trapped by flooding after heavy monsoon rains. Khan said more than 20,000 people had been rescued so far.
Efforts have been aided by an easing of the rains, but as flood waters recede authorities are seeing the full scale of the disaster.
"Aerial monitoring is being conducted, and it has shown that whole villages have washed away, animals have drowned and grain storages have washed away," said Latifur Rehman, a spokesman for the Provincial Disaster Management Authority.
"The destruction is massive and devastating."
Swat residents are still recovering from a battle between the army and the Taliban last spring that drove two million people from their homes. About a million of those people are still displaced. At least 115 people were still reported missing in Swat and Shangla.
Authorities have deployed 43 military helicopters and more than 100 boats in the rescue effort, said Rehman. "All efforts are being used to rescue people stuck in inaccessible areas and all possible help is being provided to affected people," he said.
An army spokesman, Major General Athar Abbas, said the military had deployed 30,000 army troops who evacuated 19,000 trapped people by last night.
Some residents were critical of the government's response. "The flood has devastated us all, and I don't know where my family has gone," said Hakimullah Khan, a resident of Charsadda town, who complained that the government had not helped him search for his missing wife and three children. "Water is all around and there is no help in sight," said Khan.
Sehar Ali Shah, who was rescued by the government, complained that authorities had not provided shelter that would allow them to stay until the flood waters receded.
"My son drowned, but I don't see the government taking care of us," said Shah after returning to his half-submerged house in the city of Nowshera. "The government has not managed an alternate place to shift us."
The UN has estimated that 1 million people nationwide have been affected by the floods
, which have also caused an acute shortage of fruits and vegetables in the north-west because many of the hardest hit areas were key centres of production.
The threat of disease loomed as some evacuees arrived in camps with fever, diarrhoea and skin problems. "There is now a real danger of the spread of waterborne diseases like diarrhoea, asthma, skin allergies and perhaps cholera in these areas," said Shaharyar Bangash, the head of operations in Khyber-Pakhtoonkhwa for World Vision, an international humanitarian group.
Source: The Associated Press