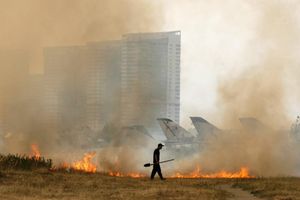 A record-breaking heat wave continued to send forest fires sweeping across parts of Russia today, destroying villages and leaving thousands homeless and up to 23 people dead, officials said.
More than 200,000 acres have been engulfed in the past few days, fueled by strong winds and a severe drought.
Moscow's temperature hit 100 degrees on Thursday, the highest since measurements began 130 years ago.
The city today faces severe thunderstorms.
In reaction to the anger expressed by villagers around the city of Nizhny Novgorod, Prime Minister Vladimir Putin canceled meetings in the capital and visited Verkhnava Vereva, some 300 miles east of Moscow.
It was one of three villages around the city, an important economic and cultural center, that have been decimated by the blazes. All 341 homes there were destroyed, according to The Associated Press.
Putin was seen on television telling a crowd of anxious women, "Don't worry, don't worry. I promise you the village will be rebuilt," news agencies reported.
One woman said, "We are very thankful to you" as Putin embraced her and promised that each person affected by the fires would be given the equivalent of $6,000, part of billions of rubles put aside for reconstruction by the government.
The situation is particularly critical for villagers, because few people have comprehensive home insurance in Russia, Agence-France Presse reported. Rural communities rely on their small holdings to survive.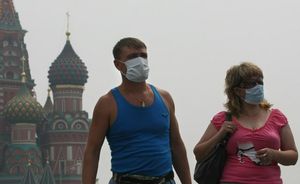 More than 1,000 homes have been destroyed in the Voronezh and Nizhny Novgorod regions and areas around Moscow, according to Russia's Emergencies Ministry. Fires have also been reported in 11 other central and southern regions.
Television footage showed streets of the city of Voronezh filled with smog today, the AP reported. The city, with an estimated population of 850,000, is about 300 miles south of Moscow,
"We don't know where to go," a 52-year-old resident of the nearby town of Maslovka told Reuters. "We called the emergency services, and not one person answered the phone," said Galina Shibanova as she stood by the charred remains of her home, one of 50 that she said had been destroyed.
Fires have not directly hit Moscow, but as temperatures have soared, the smoke from dried-up peat bogs surrounding the city have sent smoke and unpleasant odors into the streets,
The New York Times
reported.
As a deadly result of the heat wave, more than 2,000 people have died as they sought relief from the heat in rivers and reservoirs in June and July, many of them intoxicated, the
Times
said.
In the past two months, 170 drowning deaths have been recorded in Moscow alone, according to the BBC, quoting medical sources speaking to the Interfax news agency.