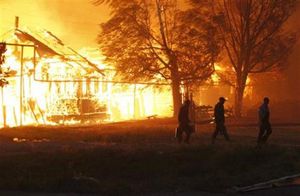 Forest fires swept across central Russia on Friday, killing at least five people and forcing the evacuation of thousands during the hottest summer since records began 130 years ago, officials said.
Fanned by strong winds, raging fires ripped through woods and fields already scorched by the heatwave, complicating the efforts of firefighters.
"We don't know where to go," said Galina Shibanova, 52, standing outside the charred remains of her family home in the town of Maslovka in the Voronezh region, about 500 kilometers (300 miles) south of Moscow.
"We called the emergency services, and not one person answered the phone," she said, adding at least 50 homes had been destroyed.
Across central Russia, planes dropped water on burning buildings as firefighters and volunteers braved thick smoke to battle the flames that tore through traditional Russian wooden houses.
The emergencies ministry said it had registered 779 forest and peat fires across Russia covering 866 square kilometers, an area about the size of Berlin.
A heatwave has engulfed European parts of Russia and Siberia since June, destroying crops and pushing thousands of farmers to the verge of bankruptcy.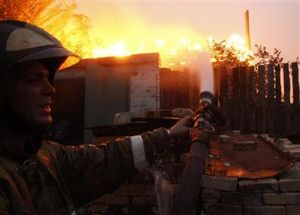 In an indication of the seriousness of the situation, Prime Minister Vladimir Putin flew to Nizhny Novgorod, where at least 540 homes were destroyed, for an emergency meeting with local officials.
Nizhny Novgorod residents fought flames with plastic buckets of water as neighbors scrambled to rescue furniture from their burning houses. One woman sat crying in an arm chair, surrounded by her children's toys, as her house burned down in front of her.
More than 900 homes were destroyed across central Russia, including 44 homes in the Moscow region, the emergencies ministry said.
Five people, including one firefighter, were killed overnight in Voronezh, an emergencies ministry official said. She said she was unable to immediately confirm Russian news agency reports that one firefighter was killed in Moscow region and two others died in fires in Nizhny Novgorod.
Thousands were evacuated, including 900 patients from a hospital in Voronezh region which was threatened by the flames, the ministry said.