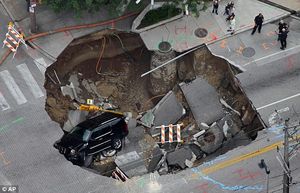 He's thanking his lucky stars that he was pulled out alive.
Yet, miraculously, the driver of this SUV only suffered minor cuts and bruises when his vehicle plummeted 20ft into a sinkhole as he approached traffic lights.
Lance Treankler was driving his black Cadillac Escalade during torrential rains in Milwaukee, Wisconsin, yesterday, when the road opened up beneath him.
'The road just went out from under me,'
Mr Treankler said.
'When I landed, my head snapped back. I went unconscious for a few seconds.
'When I looked up, I saw water run over me.'
Mr Treankler was rescued by a passer-by, 46-year-old Mark Pawlik, who was walking along when he saw the vehicle disappear and a traffic light land on its roof.
Mr Pawlik said:
'The Escalade just went "wham". Everything went down.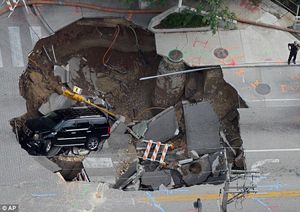 'The power line went like "pow" and then I think it was sewer water was just pouring into the hole.'
The 20-foot-deep, 40-foot-wide sinkhole formed when a manhole collapsed, and will require several weeks to repair, a city spokesman said.
Wisconsin's governor declared a state of emergency yesterday after storms flooded homes and opened sinkholes in Milwaukee and closed the city's main airport.
Runways were inundated at the city's General Mitchell International Airport, which was shut down temporarily.
The airport, which handled nearly eight million passengers last year, shut on Thursday night as storms dumped 14cm of rain on the city. One rain gauge in the suburb of Shorewood recorded nearly 30cm of water.
Governor Jim Doyle said:
'Yesterday, Milwaukee saw what may be record rainfall.'