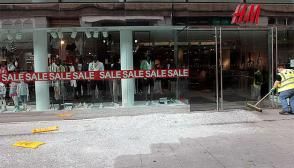 A pane of glass from a department store window crashed to the ground during a burst of freak weather in Dublin city centre yesterday.
Severe downpours of rain along with thunder and lightning hit areas around the country yesterday evening in an unexpected spate of severe conditions.
In one incident, Dublin Fire Brigade shut off part of a busy pedestrian thoroughfare in the capital after a pane of glass crashed to the ground from a department store.
Part of the area immediately around the H&M store beside St Stephen's Green shopping centre was closed off as staff members cleaned up the shattered glass, which is believed to have come from the third floor of the building. However, nobody was injured.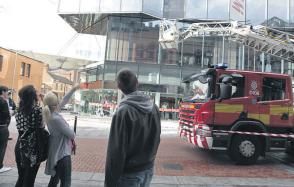 It is believed that the window may have shattered when hit by lightning during the cloudburst at about 6pm yesterday.
Met Eireann issued a number of warnings throughout the adverse conditions, which were attributed to an area of low atmospheric pressure, which moved slowly across the country.
The agency warned there would be rainfall of more than 25mm in places in an alert that lasted until midnight last night. A small craft warning was also issued following reports of strong winds.
David Rogers, a forecaster with Met Eireann, said Donegal and parts of Connacht were worst hit, with it raining in some parts for the entire day.
Showers and isolated thunder storms were scattered around various parts of the country, he said.
Flooding
However, there were no initial indications that the poor conditions had resulted in serious flooding.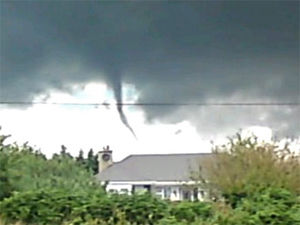 In the midlands, heavy rain was reported from 'funnel clouds' -- rotating columns of wind that look like a cone -- as well as intense bursts of rain.
In Dublin, flooding forced the closure of Bayside Dart station, which is located in an underpass.
Heavy rain during the morning resulted in flooding in the entrance and around the ticket office at the station, near Howth in north Dublin. The underpass slopes down to the station on either side.
A spokesman said the station was occasionally prone to flooding.
The station remained closed from 10am to about 3.30pm as pumps were brought in to clear the water.
Customers were advised to use Sutton or Howth Junction stations during the shut-down.
The AA advised drivers to take extreme care on the roads.
There is some reason for hope, however. Met Eireann is predicting that there will be a marked improvement in conditions from today.
Conditions are expected to be much drier although there will be a few showers in the south-east and the east.
There were strong winds reported across the east and north-east but these are also expected to calm.
Friday will be dry and bright although there will be some rain later in the day, Mr Rogers added.