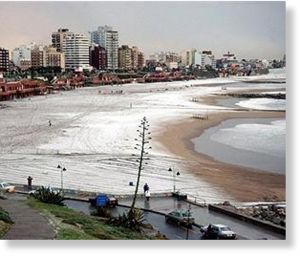 A cold snap across a swathe of Latin America has left dozens dead across several countries, as the region shivers through its winter season.
In Argentina, 33 people died as polar air sent temperatures down to around minus 14 Celsius (seven degrees Fahrenheit) in the center of the country.
Many of the victims of the chilly weather in Argentina were homeless people who died on the streets of the capital city Buenos Aires.
In Paraguay, the Health Ministry reported nine people died of hypothermia and another three were killed after inhaling toxic fumes from coal-burning ovens.
The Rural Association of Paraguay estimated that 1,000 cattle died in the freezing temperatures, particularly in the north of the country, while the country's meteorological authorities warned cold weather and rain were expected to continue for the rest of the week.
The southern cone of South America is now at the peak of its winter season, but the temperatures being experienced in a number of countries in the region are unusually harsh.
In tropical areas of Bolivia, where temperatures rarely dip below a balmy 20 degrees Celsius (68 degrees Fahrenheit), the mercury hovered around freezing, and at least four people were reported dead from the cold.
Although there were no reported deaths in Chile, parts of the country reported unusually heavy snowfall, even in generally temperate areas.