Last night, sky watchers in Europe witnessed the finest display of noctilucent clouds (NLCs) so far this year. Electric-blue tendrils spread as far south as France: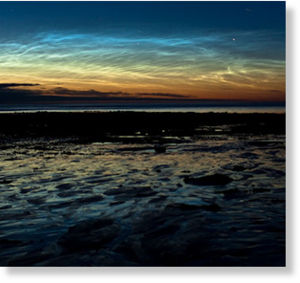 "I could see the NLCs from my window," says photographer Alexandre Croisier of Brittany, France. "So I rushed down to the beach to take this picture--a 6 second exposure with my Canon 350D."
In England, the same display stretched from horizon to horizon. "There was quite a lot of detail visible, including swirls and tiger stripes," reports Mark Jones of Leamington Spa, UK. Even city lights did not overwhelm the NLCs. "I had no trouble seeing them from southwest London," says onlooker Maurice Gavin.
July is often the best month of the year to see these mysterious clouds. High-latitude sky watchers should be alert for electric blue in the nights ahead.
More images: from
George Kristiansen
of Lincolnshire, UK; from
Andrew J. Brown
of Chelmsford Essex England UK; from
Richard Fleet
of Pewsey Vale, Wiltshire, England; from
Dave Threlkeld
of Selsey, West Sussex, UK; from
Paul Money
of Close to Horncastle, Lincolnshire, UK; from
Jorge Sereno
of Middlburg, The Netherlands; from
Jason Evans
of Eastleigh, Hampshire, United Kingdom; from
Chris Lloyd
of Kidderminster, Worcs. UK; from
Pete Glastonbury
of Devizes, Wiltshire, UK; from
Gordon Fiander
of Sheffield, South Yorkshire, England; from
Katherine Leadbetter
of Bedhampton, Hampshire, UK; from
Keith Cooper
of Leicester, England; from
Jeff Stevens
of Stoke-on-Trent, Staffordshire, England;