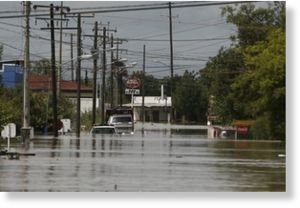 Nuevo Laredo - Reservoirs along the U.S.-Mexico border rose to their highest levels in decades after days of drenching rain, forcing officials to close two border bridges Wednesday, dump water into flooded rivers and evacuate tens of thousands from homes, with yet another storm on the way.
The dramatic rise of the Rio Grande caused by Hurricane Alex and continuing rains forced the closure of one major border crossing between downtown Laredo, Texas, and Nuevo Laredo, Mexico, and another crossing known as the Colombia Bridge, about 20 miles upriver.
Officials evacuated the flood-threatened Vega Verde subdivision in Del Rio, Texas, some 110 miles (180 kilometers) upstream from Laredo, while high waters in the northern Mexican state of Coahuila have already damaged some 10,000 homes - many swamped in waist-deep water.
"That means there are 40,000 people who don't have any place to sleep," Gov. Humberto Moreira told the Televisa network Wednesday.
To the southeast, Mexican officials evacuated nearly 18,000 people from houses in Ciudad Anahuac for fear that water would overflow the Venustiano Carranza dam and threaten lives. Mexico's National Water Commission said the dam currently had the largest emergency water release in the country.
Ciudad Anahuac Mayor Santos Garza Garcia said at least 1,500 homes had been flooded in the town of Rodriguez, across the Salado River from his city.
An airplane on an inspection tour of the flood zone crashed Wednesday, killing the mayor of the border town of Piedras Negras, the state public works director, a municipal civil defense official, a government photographer and the pilot and co-pilot. The plane was flying over a rain-swollen reservoir about 25 miles (40 kilometers) east of Eagle Pass, Texas, when it went down, said Ricardo Castillo, a spokesman for the border state of Coahuila.
Hurricane Alex dumped heavy rains on the region last week, causing flooding that killed at least 12 people in the Mexican state of Nuevo Leon, where Ciudad Anahuac is located, and leaving some 130,000 without water service.
The U.S. National Weather Service said a new storm was likely to make its way across the Gulf of Mexico and hit the region within a day or two.
Water behind the binational Amistad Dam on the Rio Grande already is at its highest level since 1974, according to the International Boundary and Water Commission, forcing officials to release water from it at the fastest rate in a quarter century.
The commission said the downstream Falcon dam would probably reach capacity within the next few days, suggesting future releases there will raise water levels along the river's lower reaches.
Much of that downstream area is protected against flooding by levees, but Mexico's National Water Commission said it was worried about low-lying settlements, most built by poor people without official permission.
"One of country's most serious problems are irregular settlements on federal land and in flood-prone areas," it said.
Authorities walked a painful, delicate line - forced to release reservoir waters they know will add to flooding in hopes of avoiding worse disasters.
It was an unusual state of affairs in a semiarid region where Mexican and U.S. officials often squabble over rights to scarce water.
Garza Garcia, the Ciudad Anahuac mayor, said 20 floodgates had been opened by late Tuesday at the Venustiano Carranza Dam, which was releasing 600 cubic meters (21,190 cubic feet) per second into the Salado River, a tributary of the Rio Grande.
"It was preferable having controlled flooding than having the whole town disappear," Garza Garcia said. "The situation is very critical."
Luis Lobo, who drove 16 people from Ciudad Anahuac to Nuevo Laredo, said hundreds of people from Ciudad Anahuac and nearby villages left by foot and were by the side of the road.
"They are out in the open. Men, women, and children with nothing to eat," Lobo said after arriving in Nuevo Laredo.
Garza Garcia said soldiers planned to take food to those stranded.
Sally Spener, public affairs officer for the binational Water Commission that operates the Amistad Dam, said the agency had tried to limit releases "so that we would not exacerbate the flooding."
In Laredo, city spokeswoman Xochitl Mora said officials had telephoned 3,000 homes in low-lying areas urging the residents to leave before the Rio Grande crested. She said a shelter would be opened at the civic center.
Mora said Bridge One was closed as a precaution ahead of the expected crest on Thursday. The water was expected to rise as high as 43 feet late Thursday - high enough to top the bridge.
Officials removed the heavy steel shade canopies to ease the weight on Bridge One before the heaviest water pressure comes with the river crest, she said. About 11,000 pedestrians and 13,000 vehicles use the downtown bridge daily.
A second bridge leading into the northwestern edge of Laredo in an industrial area was also being closed to traffic before the river crests.
The other two Laredo bridges, including the heavily used World Trade Bridge, were expected to remain open.