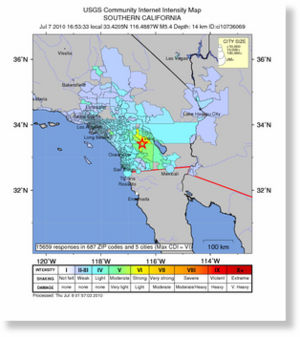 Los Angeles - A magnitude 5.4 earthquake shook the Southern California desert east of Los Angeles on Tuesday, rattling nerves across the region but causing no serious damage or injuries.
The U.S. Geological Survey said the moderate quake, which struck at 4:53 p.m. PDT, was centered 15 miles north-northwest of the desert resort community of Borrego Springs, about 133 miles east of Los Angeles.
Tall buildings swayed in downtown Los Angeles and the rolling quake was felt as far away as San Diego to the south and Santa Barbara to the north.
It was followed by a series of aftershocks and was the latest in a flurry of small to moderate temblors to hit Southern California in the months since a magnitude 7.2 shock erupted along the U.S.- Mexico border on Easter Sunday.
Geologists have been studying whether the Easter quake made seismic activity along more dangerous fault lines -- such as the Whittier and San Andreas faults -- more or less likely.
There were no immediate reports of damage or injury from the quake.
Borrego Springs Fire Protection District Captain Miguel Manzano said "it was a pretty strong quake, lasted about 10 to 15 seconds."
He said his department was unaware of any damage in the community but would be checking the area.
"We did feel it pretty strong," said John Yzaguirre, manager of the Borrego Springs Resort hotel. "There's nothing broken but it was really strong, probably one of the strongest ones we've felt."
Jealissia Williams at the Palm Springs Riviera Resort said all the front desk employees evacuated the building, but they were unable to reach guests on their way out.
"We had a guest checking in while it was going and we all had to run out," Williams said.
The U.S. Geological Survey initially reported the earthquake as a magnitude 5.9. For details, see USGS
here
.