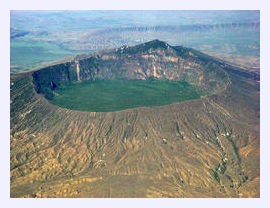 It is a sight to behold when coming from Nairobi or Limuru and approaching the high cliffs of the Great African Rift Valley -
Mount Longonot
rising from the floor of the surrounding valley and the neighboring satellite transmission station named after the mountain.
Years ago, a national park was created around the mountain to encourage more tourists to visit while in the area, and it was probably this fact which had more "eyes from the skies" look down at the mountain - long known to be a dormant volcano.
News taken from volcanologists' blogs, however, now seem to tell a different, and altogether more sinister, story than the official one on the park's tourism attractions.
Satellite pictures taken over the past decade apparently indicate that the mountain has grown in elevation by several inches, a tell-tale sign of increased volcanic activity well below the surface, caused by rising magma. There are no other signs at present, as a recent flight almost across the crater permitted me to see, such as steam or smoke, but not far from the mountain the geothermal power station is located, which taps into the "deep heat" of the Earth's crust to produce electricity. Feasibility studies have been completed, it is understood, to add power-generating capacity to the station and, in fact, build more elsewhere, but KENGEN - Kenya's national power generating company - would be well advised to keep a close eye on Mount Longonot and monitor any tremors, no matter how small, to stay on top of potential developments.
Not far across the border with Tanzania is Mr. Ol Donyo Lengai, an active volcano spewing ash over the past few years since it went active again - or rather became more active - and was the suspected source of several earthquakes and tremors some years ago, some of which were felt even in more distant parts of East Africa.
The Great African Rift Valley, of course, stems from a massive seismic event, and hot springs and geysers along the valley floor are tourist attractions like in Lake Bogoria National Park in Kenya - yet an ever-present reminder of what lies deep beneath us, stirring uneasily as in a troubled sleep.