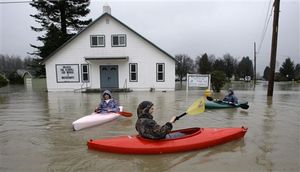 Olympia, Washington - Gov. Chris Gregoire asked U.S. Secretary of Agriculture Tom Vilsack to designate 29 counties in Washington as farm disaster areas due to weather-related losses.
The damage was the result of extreme weather conditions throughout the spring, including severe cold, high winds and excessive rains.
"Conditions this year have been difficult for our growers across Washington, from Clark County to Okanogan," Gregoire said. "Cold temperatures have harmed our tree fruit crops, while excessive rain made it difficult for bees to pollinate strawberries and other berry crops. A declaration will help our businesses absorb a difficult year and look forward."
The request includes disaster declarations for Adams, Benton, Chelan, Clark, Columbia, Cowlitz, Douglas, Franklin, Grant, Grays Harbor, Island, King, Kitsap, Kittitas, Klickitat, Lewis, Mason, Okanogan, Pacific, Pierce, San Juan, Skagit, Skamania, Snohomish, Thurston, Wahkiakum, Walla Walla, Whatcom and Yakima counties.
The USDA disaster declaration would allow farmers in the primary counties, as well as adjoining counties, to apply for disaster assistance payments through several programs administered by USDA Farm Service Agency.
Farmers may also be eligible for emergency low-interest loans from USDA to cover production and farm property losses.