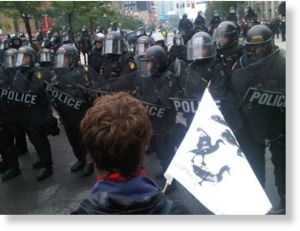 A roving band of violent G20 protesters is running amok in Toronto's financial district.
The protesters, dressed like the anarchist group Black Bloc, have taken over the streets smashing bank windows as riot police defend Toronto's summit security zone.
Police have moved into the area and are clearing pedestrians from surrounding streets.
Riot police armed with a tear gas cannon and gas masks are holding a line north of the zone.
Store front windows at a Starbucks have been smashed with hammers.
Mail boxes have been overturned.
Protesters set a police cruiser on fire.
The windows of several media vans have been smashed.
Riot police are nearby, but are not confronting the band of protesters.
One protester has been seriously injured and was carried away by others.
EMS says at least three protesters received head injuries in a confrontation with riot police, and were bleeding but conscious.
The larger protest, meanwhile, continued along its route back to the Ontario legislature peacefully.
Ten thousand protesters were expected to gather on the grounds of the Ontario legislature today, but the city is being pelted with rain and early police estimates put the crowd at about 4,000.
The "People's First March" is being organized by an umbrella organization of labour unions.
Queen Street is the key watch point since the G20 security zone is just south of there and there has been talk protesters want to take a run at the steel and concrete barricades.
A wall of police on bicycles is holding the line at Queen, with riot police behind them and police on horseback further back.
A convoy of more than a dozen minivans carrying police is also moving into the area.
Police have said 5,100 officers from forces across the province have been tasked with protecting the summit.
Security has been pegged at $1 billion.
The large but seemingly peaceful crowd held banners reading "Save the planet, sink Harper" and "G20 Fascism."
Members of the Black Bloc are wearing their trademark black balaclavas.
Two people allegedly carrying "incendiary devices" were arrested near the protest before the march began. Reports say the two had so-called Molotov cocktails - glass bottles filled with gasoline.
The Integrated Security Unit says there is no word of charges and would not specify what was seized from the pair.
On Friday almost 3,000 protesters marched through the city in a tense demonstration. Riot police aggressively moved into the crowd at one point and dragged a man into a building lobby, enraging the crowd.
Police held the crowd on University Avenue, far north of the security zone, before the protesters turned back.
At a Saturday morning news conference, the Toronto Community Mobilization Network said protesters intend to confront the heavily guarded security fence surrounding the summit site.