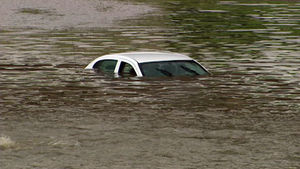 There was a break in the weather Thursday evening following an afternoon of torrential rain, hail and a possible tornado in Saskatchewan.
Environment Canada said the storm system had weakened considerably and cancelled a number of weather watches about 10 p.m. CST. It said a few thunderstorms were still possible in some areas prior to midnight, but no severe thunderstorms were expected.
Earlier Thursday, Environment Canada said Doppler radar had picked up a possible tornado near the community of Wilkie, about 160 kilometres west of Saskatoon, at about 3 p.m. CST.
A thunderstorm about 20 kilometres northeast of Wilkie was moving through the area at the time. There was no immediate confirmation available on whether a tornado had actually formed.
Severe weather hit many communities in the province Thursday afternoon, and Environment Canada issued several tornado warnings and watches throughout the day.
Power was knocked out Thursday afternoon around 4 p.m. CST in several Regina neighbourhoods. An official from SaskPower said three distribution lines were hit by lightning and thousands of customers were affected.
By 8 p.m. CST power had been restored in most areas.
Car partially submerged
Rush-hour traffic was backed up along a portion of the Ring Road in Regina's east end because of the bad weather.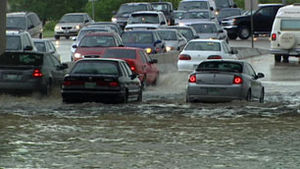 A CBC reporter covering the story found a vehicle almost completely submerged in water that had accumulated in an underpass near Victoria Avenue, but there was no one in or near the car.
The heavy rain accumulated in pools in other underpasses in the area, and at least two cars stalled when the drivers tried to plow through.
The deluge was so intense that Regina's storm sewer system was not able to drain the water, which was bubbling up around sewer intakes in some areas.
The weather office said the combination of a daytime heat with a moist and unstable air mass was responsible for producing the dramatic weather.