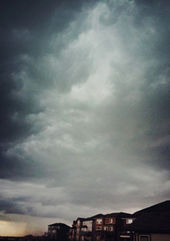 Emergency crews in Calgary had their hands full Tuesday with flooding and lightning strikes.
Rain, hail, thunder, lightning and flooding struck various parts of Calgary on Tuesday afternoon.
Fire crews and paramedics received almost 100 calls between 3 p.m. and 5 p.m. MT. Crews responded to everything from traffic accidents to false alarms downtown because of electrical overloads, said Barry Dawson, a spokesman for the Calgary fire department.
"We've had confirmed lightning strikes, working fires, smouldering fires, just about everything this afternoon. It's been absolutely crazy," said Dawson.
There were at least 13 cases of lightning hitting buildings in the city, he said. None have caused any serious damage.
Lightning is believed to have sparked a fire at a paper products warehouse at 10351 46th Street S.E. And firefighters had to remove smouldering attic insulation from a house on Arbour Glen Close N.W. that was hit by lightning.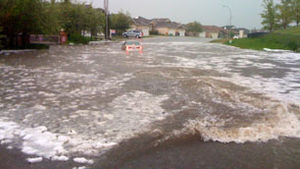 Flash flooding hit the northwest neighbourhood of the Hamptons.
Funnel clouds were reported over southern Calgary and southeast of Airdrie, leading Environment Canada to issue a tornado watch for the area. Those advisories ended on Tuesday evening.
Conditions were favourable for tornadoes to form out of weak thunderstorms, the agency said.
If a tornado develops, people should take shelter underground or in a reinforced structure such as a bathroom or interior closet. People in vehicles should try to move away from a twister at right angles, advised Environment Canada.