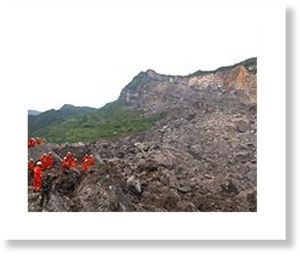 Landslides triggered by heavy rain have left at least 24 people dead and another 23 people missing in southern China, state media reported Tuesday.
In the southwest, 23 people were killed when part of a mountain cascaded down onto a construction site in Sichuan province's Kangding county, slamming into tents where the victims were sleeping, the China News Service said.
Seven people were hurt, three of them seriously, it said. Only four workers managed to escape unscathed.
In southeastern China, one person was killed and 23 others were reported missing after a bus was swept off a road by a landslide and dumped into a river in Fujian province, China National Radio said.
Rescue teams, battling the difficult terrain, reached the bus early Tuesday, but found only one body some 100 metres (yards) downstream from the wreck, the report said. Search and rescue efforts were ongoing.
According to Xinhua news agency, a minibus was also swept off the road by the same landslide, but all seven passengers survived.
Landslides are common in China during the summer rainy season, with torrential storms pummelling the south and southeast in recent days.
Last month, at least 19 people were killed and another 71 injured when a train derailed in a mountainous area of east China after a landslide damaged the tracks.