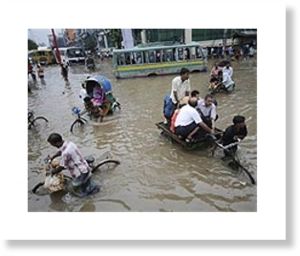 At least 42 people have been killed by landslides and flash floods in southeastern Bangladesh and dozens more are missing, police and local officials said Tuesday.
The flood warning centre said most of the southeast had experienced heavy rainfall during the past 24 hours, with 24.2 centimetres (9.5 inches) falling in many areas.
In the worst affected area of Teknaf -- which is on the border with Myanmar and home to hundreds of thousands of ethnic Rohingya refugees -- at least 25 people were killed and six missing, local official A.N.M Nazim Uddin told AFP.
"All the roads are under water. We can't reach areas where thousands of people are trapped by the floods," he said by phone.
Around 15,000 Rohingya refugees living in camps -- both legal and illegal -- around Teknaf have been affected by the floods, Firoz Salauddin, the government's spokesman on Rohingya issues told AFP.
Bangladesh recognises 28,000 Rohingya as registered refugees, who live and receive aid at an official UN camp in Kutupalong. This figure is a fraction of the 200,000 to 300,000 unofficial refugees, according to government estimates.
"Hundreds of bamboo shacks have been washed away by the rains," Mojibur Rahman, a Rohingya refugee who lives in an official refugee camp, told AFP.
The refugee camps are often set up on newly cleared forest land and are vulnerable to landslides in heavy rain.
Conditions are dire in the unofficial camps where people have been without food for two days since the heavy rain began, said Manzural Islam, an unregistered Rohingya refugee.
"Flash floods are the worst thing that could have happened to us," said Islam, who fled Myanmar's northern Rakhine state last year.
"People are living under the sky and we haven't had food for two days as we can't cook in the rain with no shelter," he told AFP by telephone.
Further down the coast, at least 13 people -- including six soldiers -- have died in the southern resort area of Cox's Bazaar, police said.
"We have recovered two dead bodies of soldiers from the mud," police officer Mohammud Shahajahan told AFP.
An army barracks at the foot of a hill was destroyed by a landslide, with all the soldiers on duty and at least 20 army vehicles buried in the mud.
"Four more soldiers are still under the mud, we are trying to recover the bodies," he said
The rescue effort was progressing slowly as the landslides had blocked key roads across the Cox's Bazaar and Bandarban districts, local police chief Nibhas Chandra Majhi told AFP.
"We could not start rescue efforts yet as landslides triggered by the rains have clogged up the main highways," he said, adding that rescue workers expected the death toll to rise as rain continued.
A further four people -- all members of the same family -- were killed by a landslide in the remote Ghumdhum area, in the Bandarban hill district, local police chief Kamrul Ahsan told AFP.
Weather officials have forecast further rains due to a major depression in the Bay of Bengal.
Landslides triggered by heavy rains are common in Bangladesh's southeastern hill districts where thousands of poor people live on deforested hill slopes.