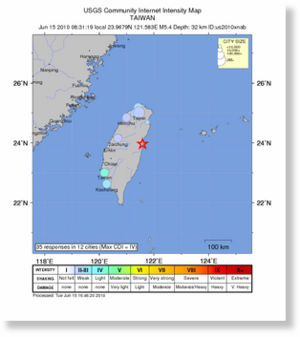 An 5.4-magnitude earthquake struck directly below one of the largest cities on the east coast of Taiwan on Tuesday, the US Geological Survey said.
The quake hit at 8:31 am (0031 GMT) 32 kilometres (20 miles) below the city of Hualien, according to the USGS.
Hualien, one of the main cities on the thinly populated east coast, is home to about 110,000 people. There were no immediate reports of casualties.
Taiwan is regularly hit by earthquakes as the island lies near the junction of two tectonic plates.
In September 1999, a 7.6-magnitude tremor killed around 2,400 people in the deadliest natural disaster in the island's recent history.
USGS details
here
.