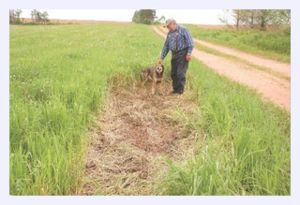 A mysterious fire that occurred in Grahams Road Saturday morning has left residents puzzled.
Louis and Clemmie Campbell were outside in their yard when they heard a loud swishing sound.
"A white ball of fire fell from the sky," described Clemmie. "It hit the ground and smoke started coming up."
The ball of fire landed in a hay field beside the Campbell's driveway.
Clemmie phoned the New London Fire Department while her husband Louis grabbed a pitchfork and approached the flames.
By the time firefighters arrived on scene, Louis had put out the flames with his fork and boots.
"It mostly burnt out as soon as it hit the ground," said Louis.
Allan Cole of the NLFD said the fire is still a mystery.
"We found some stuff there but we don't know what it is," said Cole. "It's interesting."
Fire Marshal's Office spokesperson Connie MacNeil said the office is currently investigating the cause of the fire.
"It must be off a meteor or something," said Clemmie. "Your guess is as good as mine."
The Campbells are glad to have been home to see the incident. They say it could have been a story with a bad ending.
"The field it landed in is all dry hay," said Clemmie. "It could have spread very quickly."
The burning object disintegrated upon impact with the ground, leaving a burn spot about 10 feet by five feet.
"What it was I really don't know, but it sure made a subject for conservation," said Clemmie.