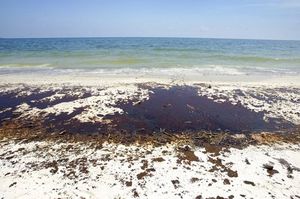 Gulf Shore - Thousands of people lined Gulf Shores beaches this afternoon, but almost none dared even put a toe in the water.
In some sections, large pools of black oil sat on the shoreline.
As far east or west as the eye could see, oil stained the white sands.
Small groups of workers took turns for hours shoveling clumps of the oil into black plastic bags. But as quickly as they dug, the oil washed ashore -- in sheets, in globs, with each successive, dark wave.
Occasionally, a group of beachgoers would rise from their towels and stand at the edge of the oil, which kept them four or five feet from the water's edge.
They stared and took photographs of the devastation and the oil-stained sands.
A group of women walking the beach paused near the workers.
"This summer is ruined," said Barbara Nicholson, who lives in Mobile and owns a condo in Gulf Shores. "What I'm thinking about now is what tomorrow is going to bring and for how long."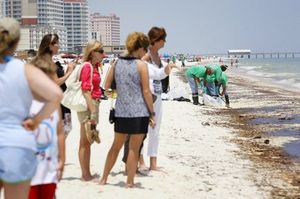 Oil from the spill was obvious to visitors entering the Gulf State Park Pier in Gulf Shores this afternoon. The pier itself is protected by boom and fish were visible as they swam underneath the entrance to the structure.
Outside the boom, however, it appeared that workers had removed the material that washed ashore, revealing a 10-foot-wide swath of sand stained brown by the oil.
No fishing is allowed at the state-owned pier, but sightseers can still visit there.
Clumps of oil slapped the black specked shores this afternoon from Orange Beach to Perdido Pass.
At Gulf State Park Cotton Bayou, Heather Andrews of Orange Beach walked up to the waterfront.
"Oh my, it's way worse than it was before," she said. "It's terrible."
Her boyfriend, Steve Merna, bent down, dipped his finger into the oil and sniffed it.

"This could be the worst thing ever to happen to these beaches," he said, as a four-by-four loaded with EPA workers and members of the Coast Guard rolled past.
The smell of oil hung in the hot, humid air.
Eastward, under the Gulf State Park Pier, gobs of oil hit posts and covered white boom in the area.
Over Perdido Pass, to the east beyond orange boom, there appeared to be no oil in the water, though pebble-sized tarballs were sprinkled in the sand.
Outside the Flora-Bama at the Florida state line, swimmers cooled off in the area where oil was not present.