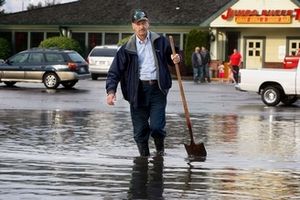 A powerful storm of rain and hail that struck parts of Snohomish County late Wednesday afternoon flooded buildings, clogged storm drains and slowed traffic.
In Marysville, water rose up to two feet in some areas, seriously damaging the Marysville Public Works Building on Columbia Avenue, city spokesman Doug Buell said.
Maintenance crews worked to clear water from major city intersections, as flooding disrupted traffic.
Dale Ticer, who lives above the Cedarcrest Golf Course, had to find another route home after crews closed 84th Street NE. He said he could see a stream of water rushing down the hill.
"It was just a flood of water pouring down," Ticer said.
He said a retention pond near his house filled up like he had never seen before. But his home wasn't damaged while he was at work, Ticer said, thanks to someone who placed a board in front of his garage to divert water streaming downhill toward his home.
At Miss Debbie's Day Care on 67th Avenue NE, Terry and Debbie Henderson ushered kids inside when first drops of rain began to fall about 4:30 p.m.
Parents who came to pick up the kids at 5 p.m. could barely get out of the driveway, Terry Henderson said.
"The road just filled up with water and there was no place for them to go," he said.
In that first hour, Marysville got more than 1½ inches of rain, said Dustin Guy, a meteorologist with the National Weather Service in Seattle.
The storm was not unusual for Western Washington
, he said. Showers were expected to taper off overnight.
In north Everett, at least 20 homeowners reported sewage backing up into their basements after the rain surge. Dave Davis, the city's public works director, gave the City Council an update on the problem last night. He said the affected homes stretched from 400 block south to the 1800 block.
"There are 20 homes on our list and I suspect the numbers will grow," he said.
A homeowner who lives on Lombard Avenue told the council that workers from the city had repaired old city sewer lines that connected to his home in the past. The sewer backed up into his basement after the rain hit and he spent several hours bailing it out.
He said the rain was so heavy it shot out of sewer grates along his street like a geyser.