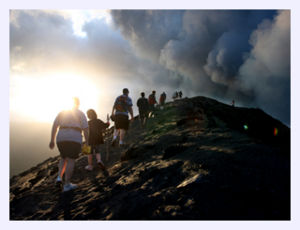 Ash belching from a Vanuatu volcano is an increasing health threat to islanders and their water supplies.
The cloud from erupting Mount Yasur has billowed some 1,800 metres high and affected flights in neighbouring New Caledonia.
Tourists have been banned from the scenic spot under persistent bombardment from lava and burning rocks.
Government officials have visited the island of Tanna to assess the overall impact of the eruption.
"They have come across some experiences where young children have gone through like headache, stomach ache," Donald Manses, operations officer for the Vanuatu Disaster Management Office, told Radio New Zealand.
"They have found out also that the water is contaminated."
Manses said some families had chosen to leave the island, but "people have not been asked to evacuate".
About ten villages lie within the volcano's current hazard zone, Radio New Zealand reported.
"There's a lot of volcanic ash coming out of the volcano," Manses told AAP on Tuesday.
"The seismologists are there, we have them monitoring the scene.
"They will probably give us any updates on that sometime this week."
Tristan Oakley, an aviation forecaster with New Zealand's Meteorological Service, said authorities had issued an advisory and it was up to airlines to avoid the affected area or cancel flights if necessary.
Oakley said Vanuatu's Geohazard team had advised him that Mount Yasur was still belching one to two kilometres into the air.
But Manses told AAP there had been no impact on flights in and out of Vanuatu.
However, last Friday Australia issued a travel advisory saying visitors were now barred from the volcano zone.
"Public access to the volcano is now strictly prohibited and people living in the risk zone should move to safer areas," the advisory said.
There are several active volcanoes in the Vanuatu islands group, according to the country's Geohazard scientists.
Another, on the island of Gaua, was causing locals the most concern.
About 82 people remain in re-location centres while mudflow causes significant damage to crops with ash, volcanic gas and acid rain contaminating drinking water.
"It has been continuously erupting since November last year," Manses told AAP.
"We have evacuated communities from the west part of the island, we already evacuated them last year and they are still in re-location centres," he said.
"The seismologists cannot tell when people can return to their original homes, so they are still there in re-location centres."
The archipelago, which lies between Australia and Fiji and north of New Zealand, was rocked by a 7.2-magnitude earthquake last week, prompting a brief tsunami warning.
Last year it copped three major earthquakes.