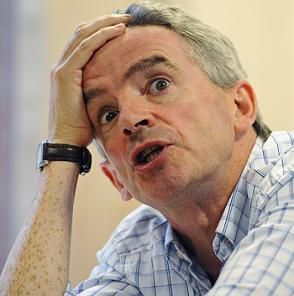 Michael O'Leary has refused to soften his stance on compensation as he admitted the volcanic ash cloud cost the airline around €50m.
Ryanair's chief executive said his airline was gearing up for a legal challenge against "unfair" EU regulations, which forced carriers to cover the costs of refreshments and accommodation for passengers who could not get home.
Mr O'Leary said the firm planned to use the top 20 "most ludicrous" claims as part of a test case in the courts. He said one customer stranded in the Canary Isles, hoping to return to Dublin, put in a claim for €3,000 for a luxury apartment.
The outspoken boss said the "mythical" cloud had left his business with a bill of around €50m so far.
"There was no ash cloud," he told a press conference on Tuesday. "It was mythical. We've not been able to find it." He went on: "It's become evident the airspace closure was completely unnecessary."
Mr O'Leary blamed the "incompetence" of the Met Office for identifying an ash cloud
"that just wasn't there".
After initially refusing to compensate customers beyond a refund for their ticket last month, Mr O'Leary agreed to foot the bill. But he added he was determined to challenge the EU 261 regulation so his airline would not suffer again.
He said: "The EU 261 regulations are absurd and completely disproportionate. We're happy to compensate when it is our screw-up, but when it's an act of God, we don't think the airlines should have to pay out. We suggest reform of the EU 261 must be introduced."
He went on: "I can live with the penalty of paying €50m if we get this absurd regulation changed."
Mr O'Leary said they would have to present the case to a district court before forcing it through to the European courts within the next 12 months. Ryanair has completed 90pc of flight refunds, and about 10pc of reimbursement claims, he added.
Source: Press Association