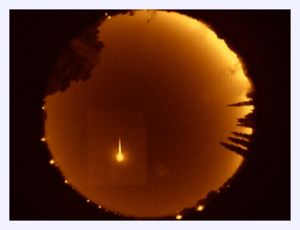 May 26th, 2010 at 05:21:08 hrs MDT, our ELP Sentinel Allsky Camera recorded a meteor event in our west-southwest sky. Visual magnitude calculated to be -10.4 (very bright "shadowcaster").
Detonation (terminal explosion) was detected.
Here is a composite
photo
of this event from
The El Paso Allsky Camera Station. Eyewitnesses to this event are encouraged to leave comments about any visual observations in the Comments section of this site.
Thank you.
.