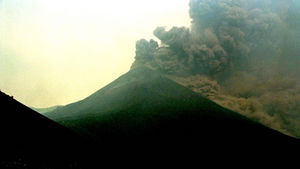 A state of emergency has been declared in Guatemala after a volcanic eruption killed a television journalist and forced the international airport to close.
Anibal Archila's burnt body was found near the
Pacaya volcano
by a colleague, who said the reporter had been unable to escape a shower of boulders triggered by the eruption.
Some 1,600 people have been evacuated from the slopes of the volcano, which stands 2,552m (8,372ft) above sea level about 15 miles south of the capital, Guatemala City.
Three children aged seven, nine and 10 have been reported missing in the area.
Between two and three inches of ash have built up on streets in some southern parts of the capital city since the volcano started erupting on Wednesday.
Its airport, La Aurora International, has been closed to ensure planes do not fly through the hazardous ash cloud or land on its ash-covered runway.
Incoming flights are being diverted to airports in other parts of the country.
Pacaya is the most active of Guatemala's 32 volcanos and has been intermittently erupting since 1966.
Tourists are frequent visitors to areas near the three lava flows formed in eruptions between 1989 and 1991.
Twelve years ago, in 1998, the volcano forced a series of evacuations and closed the airport.