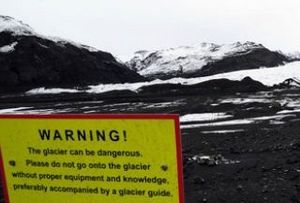 Scientists have warned a second much larger volcano in Iceland is showing signs of eruption, with the government expressing readiness to face a possible crisis.
After the successive eruptions of Eyjafjallajokull which caused air traffic mayhem in Europe and brought thousands of flights to a halt earlier in the year, Katla volcano is also threatening to blow.
Experts say there has been a 200 percent increase in its volcanic activity in recent days, MSNBC reported.
"An eruption in the short term is a strong possibility," the University College London (UCL) institute for risk and disaster reduction outlined in a report.
Seismic readings indicated a substantial increase in tremors in the areas surrounding the volcano, the report said.
On May 21 alone, four earthquakes near Katla were detected in 12 hours; a record since the eruption of Eyjafjallajokull volcano in March.
The previous volcanic eruption in Iceland caught the entire aviation system off guard.
Some airlines, such as Ryanair, have demanded compensation for closure of airspace claiming European governments were "hopelessly unprepared," the
Independent
reported.
"The response to the ash cloud's arrival in the UK and adjacent airspace was entirely reactive and therefore less effective than it should have been," the UCL report said.
This time round, Icelandic President Olafur Grimsson is warning European governments that a potential eruption is near.
"We have prepared ... it is high time for European governments and airline authorities all over Europe and the world to start planning for the eventual Katla eruption," he said.