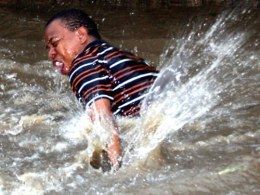 Nairobi - More than 100 people have been killed by floods and thousands others displaced as the rains continue to wreak havoc.
Some 500 families have been displaced in Trans Nzoia District by the floods that have destroyed human life and vegetation.
Kenya Red Cross Society communications officer Nelly Muluka said some of the displaced families risked contracting waterborne diseases.
She said medical officers had been sent to parts of North Rift, Nyanza, Coast and North Eastern to assist displaced families.
"Public health officials have been dispatched to sensitise the families on how to avoid contracting waterborne diseases," said Ms Muluka.
Also at the risk of contracting water-borne diseases are more than 3,000 internally displaced families in transit camps in the North Rift.
"There are fears of outbreak of contagious diseases due to (poor) hygienic condition in some of the camps," warned Mr Patrick Nyongesa, Kenya Red Cross Society North Rift manager.
Most of the IDPs in transit camps have not received the Sh35,000 support from the government to enable them return to their farms following the post-election violence.
"The floods pose a serious threat to food security as many hectares of crops have been submerged or swept away by the floods," said Ms Muluka.
A large number of schools and houses have also been damaged.
Transport in most parts of North Rift has been disrupted after more than 20 bridges were damaged, added the Kenya Red Cross official.
Assist families
Engineers have been dispatched to repair some of the damaged bridges in the North Rift region for easier transportation.
"Engineers are on the ground to repair damaged bridges and assist families displaced by the floods," said Joseph Kanyiri, Turkana South district commissioner.