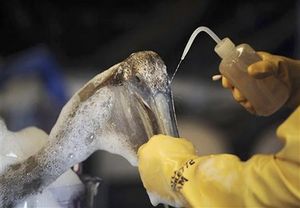 Key West - Fears that ocean currents were spreading oil from the Gulf of Mexico spill flared on Tuesday after tar balls turned up in Florida, raising pressure on energy giant BP to capture more of the leaking crude.
In Washington lawmakers pushed forward with efforts to raise companies' liability cap for oil accidents and the Obama administration said offshore drilling was critical to meet U.S. energy needs despite the risks made evident by the spill.
Four weeks after a drilling rig leased by BP Plc exploded and caused a massive oil spill deep in the Gulf, officials have stressed the accident's so-far limited impact on coastal shorelines and wildlife.
But news of the tar balls in Florida raised concerns that the leaked oil's reach was expanding dramatically.
Tests were being done to confirm whether the globs of concentrated oil discovered on the well-known Key West island resort on Monday came from BP's ruptured undersea well as Florida braced for the spill's potential impact on its $60 billion-a-year tourism industry.
"We believe it is unlikely (the tar balls) are from the Gulf oil spill, but we'll know for sure in a couple of days," said Key West Mayor Craig Cates. "While we are concerned about what will happen, we are trying to keep a positive attitude."
If confirmed, it would be the southernmost and easternmost impact reported so far from the massive Gulf of Mexico oil spill, feared to eclipse the 1989
Exxon Valdez
accident off Alaska as the worst U.S. ecological disaster.
Oil debris and tar balls have been reported in Louisiana, Alabama and Mississippi. Miles (kilometers) of protective booms are being used to try to defend the shore.
"Out - of - Control Bad"
Held squarely responsible by the Obama administration for an environmental calamity that is already hitting Gulf Coast economies and ecosystems, London-based BP was moving ahead with undersea attempts to contain and shut off the leaking well.
After managing to insert a mile-long siphon tube into the leaking riser pipe of its blown-out well, BP said it was now capturing an estimated 2,000 barrels per day from the leak. This was about 40 percent of the 5,000 barrels (210,000 gallons/795,000 liters) BP has estimated to be leaking daily. It hopes to increase this containment.
But new video footage showed vast amounts of oil still spewing into the ocean from the leaking well, underscoring the limited impact of BP's fix.
Florida Democrat Senator Bill Nelson released a forecast by University of South Florida College of Marine Science experts who said part of the oil slick may reach the Florida Keys in five to six days, and possibly Miami five days after that.
"While I always hope for the best, this is looking like really out-of-control bad," Nelson said in a statement before another round of congressional hearings on Tuesday that were to grill senior officials and BP executives about the spill.
BP's stock was initially up more than 1 percent in London on Tuesday, but later fell back slightly. The company estimated the bill for the oil cleanup at $625 million, $175 million higher than a few days ago, with analysts saying costs could reach into the billions.
Signaling further woes for the company, Interior Secretary Ken Salazar told a Senate panel the government was investigating BP's
Atlantis
oil production platform in the Gulf. A consumer group asked a U.S. federal court on Monday to stop production at Atlantis until safety documents are produced.
In a sign of the spill's widening impact, the United States nearly doubled the no-fishing zone in waters seen affected by the oil, extending it to 19 percent of U.S. waters in the Gulf.
Many experts believe oil from the Gulf of Mexico spill may have already been caught up in the powerful Loop Current curling around the Florida Peninsula, which could take it into the Florida Keys and possibly up the East Coast.
National Oceanic and Atmospheric Administration chief Jane Lubchenco said that since a southeastern tendril of oil from the slick was close to the Loop Current, it was likely to be swept up in the current, if it was not already.
"When that occurs, oil could reach the Florida Straits in eight to 10 days," she said.
"The possibility for a major ecological disaster in the fragile Keys ecosystem cannot be ruled out," forecaster Jeff Masters of Weather Underground wrote in a blog.
A Coast Guard helicopter and NOAA experts planned to scour the Florida Keys for signs of additional pollution after rangers at Fort Zachary Taylor State Park found 20 tar balls on the shore on Monday. The balls ranged from three to eight inches in diameter.
Key West, the southernmost tip of the popular Straits of Florida island chain, is a famous beach, diving and fishing resort which counted writer Ernest Hemingway among its fans.
"Taking Our Livelihood"
Although people living there are used to hurricanes hammering their shores, the oil slick was a different kind of threat.
"The county hasn't called for an evacuation of tourists as they often do during a hurricane, but if the oil spill affects our waters there won't be any visitors to evacuate. No one knows where the tar balls are from, but they predict doom and gloom," said resident Charlie Bauer.
BP Chief Executive Tony Hayward was quoted by
Sky News
as saying he believed the ecological impact from the spill would be light. "I think the environmental impact of this disaster is likely to have been very, very modest," he said.
But with oil creeping into rich fishing grounds and oyster beds off in three states and commercial and sports fishing suspended across a swath of the Gulf, local residents are worried that their way of life is under threat.
"They're not only taking our income, they're taking our livelihood. They're taking the food straight out of our mouths, because the food we eat come out of this bayou," said Cajun fisherman Randy Arceneaux, 28, of Cocodrie, Louisiana.
President Barack Obama planned to create a presidential commission to probe the disaster as the oil industry and its practices come under sharp scrutiny.
Salazar also told Congress the United States still has to rely on offshore oil drilling to meet its energy needs. "Offshore development is a necessary part of that future," he told a Senate Energy and Natural Resources Committee.
Democrats in the U.S. Senate were considering pushing legislation that would place no limits on the liability oil companies would face if they are responsible for oil spills, New Jersey Senator Robert Menendez said.
The Senate Commerce Committee hearing was also due to question BP America President Lamar McKay and Steven Newman, president of Transocean, which owned the rig that exploded and was working on behalf of BP.
Investors have knocked $30 billion off BP's value over the spill, which followed the April 20 rig explosion that killed 11 workers and the fallout it faces is ramping up.
The disaster has hurt BP's image, already tarnished in the United States from a 2006 spill in Alaska from a BP-owned pipeline and a 2005 fire at the company's Texas City refinery that killed 15 workers and injured 180.