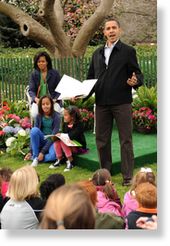 London - Leaked reports reveal that on Wednesday, début Hawaiian novelist Barack Hussein Obama II, 49, will win the Lost Man Booker Prize, one of the world's most prestigious literary awards, with "
No Peace for the wicked!
". It will be the first time in it's 41-year history that an unwritten book will claim the award.
He will receive a designer bound copy of his novel (once it is published) at a gala dinner in London and can expect not only overnight literary fame but also a sharp rise in much needed popularity he has lost in the run-up to House of Representatives and Senate elections.
The
Lost Man Booker Prize
is a one-off prize to honour the books which missed out on the opportunity to win the Booker Prize in 1970.
To pre-empt any potential controversy, Booker organizers have announced that they have a written certificate dated 1970 that clearly shows Obama had an intention to write a book about peace one day. The organizers have stated however, that this certificate will never be released to the public and they should just take their word for it.
No Peace for the Wicked!
is a semi-autobiographic novel that follows Barack Obama, the son of a government economist in Kenya, whose dream of winning a Nobel Peace prize takes him on a journey to the bright lights of Iraq and Afghanistan, where he will do almost anything to make sure continued failed promises of withdrawal enable American's to believe that war, is in fact, peace.
"It was important for me to show the American people that I am worthy of a Nobel Peace prize by winning a prestigious award for a book about peace that I have yet to write," Obama will tell reporters after the awards ceremony.
"The book will tell the story of how troop surges to occupied lands create peace and tranquillity. How predator drones' indiscriminate slaughtering of women and children can be joked about with Jay Leno and help everyone learn about American freedom and democracy. There's been a need for a book like this," he added.
On October 9, 2009, Obama won the 2009 Nobel Peace Prize "for his extraordinary efforts to strengthen international diplomacy and cooperation between peoples". Obama accepted this award with "deep gratitude, great humility and a puzzled grin." The award drew a mixture of disbelief and criticism from world leaders and media figures for downgrading the importance of an award that was usually given to people (Kissinger and Gore being obvious exceptions) who had actually achieved something towards peace and not just said that they hoped that they would some day.
Poet and novelist Tobias Hill, one member of the three-strong judging panel, praised
No Peace for the Wicked!
for promising to tackle important Orwellian double-speak in modern-day police-state America.
"What set this one apart was its originality," Hill said. "For many of us this was entirely new territory - awarding a prize to a book on double-speak that we only had the title of".
"It's a good title though, the idiom accurately reflects the authors realization that his wicked actions of continuing wars based on lies require unrelenting media efforts that give him little peace. Turning war into peace is no easy task and addresses an important social issue -- the division between media fiction and the reality of CIA-lead covert operations that provide excuses to assist in persuading the public that extending the illegal occupation is necessary."
Obama was one of six novelists on the short-list for the unique Lost Man prize amongst a highly contested competition. The main Man Booker Prize, awarded in December, is the world's most important literary award and has the power to transform the fortunes of authors and possibly presidents.
He beat bookmakers' favorite lost man - George Bush of Texas (
When We Talk About War, We're Really Talking About Peace
).
Also nominated were BP's CEO Tony Hayward (
Don't Worry, It's Only a Wee Drop in the Ocean
), Britons Gordon Brown (
Hope You Public School Boys Have a Fabulous, Romantic Honeymoon on a Budget
), Michael Mann (
Hide the Decline
), Dick Cheney (
Raiders of the Lost Government
) and Donald Rumsfeld (
Psycho-pathernetics - A New Way to Get More Money Out of Taxpayers
).
Later this year, Obama is also set to publish his as yet unfinished non-fiction book "
How to Win Friends on Wall Street and be Influenced by Big Pharma
".