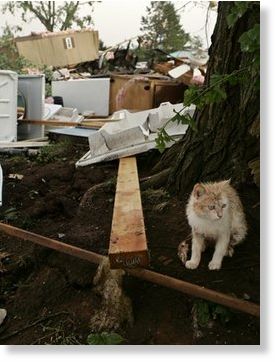 Tecumseh - Four people have been killed in Oklahoma during an outbreak of violent weather that dropped tornadoes across parts of the Southern Plains.
The Oklahoma Department of Emergency Management said three people were killed at Tecumseh on Monday and that another person died at Oklahoma City. Tecumseh is about 45 miles southeast of Oklahoma City.
The agency did not have any additional details.
The storms caused traffic accidents that closed two major cross-country interstates. Damage was reported throughout much of northern, central and eastern Oklahoma.
The Storm Prediction Center at Norman had predicted the outbreak, saying the atmosphere had the right mix of winds, heat and moisture.
THIS IS A BREAKING NEWS UPDATE. Check back soon for further information. AP's earlier story is below.
Norman - Tornadoes have raked Oklahoma City and its suburbs, tossing cars off highways and flipping mobile homes.
Two tornadoes touched down in the area during the height of rush hour Monday afternoon. Only one minor injury has been reported, but emergency managers fear the count could rise as first responders fan out across the state.
The storms were part of a violent weather system that produced twisters in Kansas and other parts of Oklahoma. Forecasters had warned of a tornado outbreak since last week.
In Kansas, the most serious damage was reported in Belmont. Several homes were damaged in the town east of Topeka and widespread power outages were reported.
In Wichita, Tabor University and Wichita State University shut down for the evening as the storms moved through.