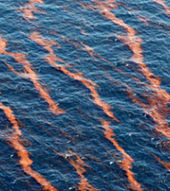 Update: 'Flummoxed' BP engineers ask public for oil leak solutions
New Orleans, Louisanna -- With the impending threat of a growing oil slick just offshore, US Gulf coast states are seizing at all straws to avert disaster, with police in north Florida even suggesting protecting beaches with rolls of hay.
"That's why we get a lot of inventions in wartime, because people are willing to take a chance," Eric Smith, an oil and gas expert at Tulane University in New Orleans, said of the flood of ideas on how to stop the spill in the Gulf of Mexico.
On Florida's Santa Rosa Beach, Walton County Sheriff Michael A. Adkinson and C.W. Roberts, Inc., a private contractor, unveiled their audacious plan to stop oil from blackening 26 miles of pristine white beaches facing the Gulf.
The three-stage plan involves floating barges miles offshore filled with giant 1,400-pound rolls of hay. The barges, equipped with blowers, then spray the hay into the oily waters.
"The hay will clump together with the oil and make it easier to remove the waste from the water," said Sheriff's spokesman Mike Gurspan.
Despite more than two weeks of attempts using undersea robots and other high technology, BP has failed to stop oil from gushing up from the sunken wreckage of the
Deepwater Horizon
drilling rig.
The structure sank 42 miles off the Louisiana coast on April 22, two days after a fiery explosion left 11 crewmembers missing and presumed dead, and the ensuing spill has spewed oil into the Gulf by 210,000 gallons a day threatening fisheries, wildlife and attractions like the sandy white beaches.
So with BP engineers publicly flummoxed by the challenges of mechanically repairing complex machines a mile down in the Gulf, a frustrated public has undertaken its own search to defend its coastal treasures from the widening spill.
BP maintains an online venue where the general public can submit ideas at the central command Web site deepwaterhorizon response.com. Submissions are forwarded to a technical desk for engineers to sort through them.
"To the extent that they act on them, I have no idea but they have flown in experts from around the world to collaborate and contemplate the ideas that are presented," BP spokesman Bryan Ferguson said Sunday at the joint information center at Robert, Louisiana.
Mr. Smith said BP's solicitation of public input (including a toll-free number) may be "designed to fend off criticism" of the oil giant's responsibility for the environmental crisis.
"I'm sure there are some good ideas and a lot of other ideas that might not be so practical," he said.
The Florida plan, Mr. Gurspan said, exceeds preparations in other states, which require thousands of feet of absorbent boom.
"Booms are 90% ineffective in open water," he said, adding that
if the oil slick contaminates Florida's rare coastal dune lakes the effect would be catastrophic
.
"We don't know if it will work or not but everybody wants something to do and people deserve an effort."
Since the spill, the sheriff's hay plan has captured the imaginations of residents and US news media alike, but asked if the sheriff has any suggestions for plugging the BP oil well, after a containment dome failed at the weekend, Mr. Gurspan said hopefully "someone in Louisiana will come up with that idea."
That attempt on Saturday involved undersea robots placing a huge dome over the oil leak.
Favorable weather was expected to keep the bulk of the estimated three million gallons of oil spreading across the gulf away from shore in the coming days.
But with a thin sheen of oil already lapping Louisiana's coastal islands, local leaders begged for more boom to protect vulnerable coastal wetlands and wildlife preserves, as well as billion-dollar fishing and tourism destinations.
"It'll be so much harder to clean up this oil if it gets into the marshes," said Governor Bobby Jindal.
The US Coast Guard, which is assisting in the recovery efforts led by British energy giant BP, cautioned that resources must be used "strategically."
"There's not enough to completely boom off every piece of coastline for all four [gulf] states," Coast Guard Petty Officer David Mosley told AFP.
"That's hundreds and hundreds of miles."
Hope were pinned on the unprecedented effort to cap the massive leak some 5,000 feet (1,500 meters) below the surface because it will take three months to drill relief wells to stem the flow.
Engineers hoped the 100-ton chamber would collect about 85% of the crude by funneling it up to a barge on the surface.
Sheen from the massive crude spill has been washing ashore on the Chandeleur Islands, some 60 miles (100 kilometers) off Louisiana, forcing US officials to close a wildlife refuge to minimize disturbance to nesting sea birds and to allow cleanup work.
The Breton National Wildlife Refuge, home to endangered species of brown pelican, least tern and piping plover, is one of the oldest in the country and spreads across almost 7,000 acres (2,800 hectares).
The National Oceanic and Atmospheric Administration meanwhile extended the area closed to commercial and recreational fishing to 4.5% of Gulf waters, saying the fishing ban would remain in place until May 17.
News of the sheen reaching Louisiana's outlying shores raised new fears for the fragile ecosystem of its wetlands and shores --
a major stop for migratory birds home to vital spawning grounds for fish, shrimp and crabs.
"It's going to destroy the industry -- it will never recover if the oil gets into the marshlands," oyster fisherman Cliff LeBoef, 50, told AFP.
Mr. LeBoef's oyster beds are only now recovering from the devastation of Hurricane Katrina in 2005.
Beachfront towns across the coast are already suffering from cancellations as fears of an oil slick washes away tourists, as are charter boat captains who make a living catering to sports fishermen.
Rough seas last week hampered efforts to skim the oil from the sea with boats and controlled burns, but calmer waters have brought the battle back to the Gulf.
BP sprayed dispersants over the slick to break it up, and was deploying thousands of booms to try to contain the spreading oil.
US officials said the chemicals produced a similar effect to dishwashing liquid.
"It's really designed to break down the oil," said Bob Perciasepe, deputy administrator of the Environmental Protection Agency.
"It does not make the oil disappear but it makes it into smaller and smaller particles that makes easier over the long haul to be biodegradable instead of big... really, oily globs."
Mississippi state officials however issued a statement saying that recreational and commercial fishing in their waters remains open, "including charter fishing and recreational and commercial crabbing."
State officials also said "any fish available for commercial sale -- for example, fish in grocery stores -- comes from non-contaminated waters," and due to controls "it would be highly unlikely for unsafe fish to make its way onto the commercial market."
Update: BP casting aside 70-ton, four-story containment dome, may try a smaller version
Concern grew Sunday that the US Gulf coast is facing a whole new level of environmental disaster after the best short-term fix for a massive oil spill ran into serious trouble.
BP's giant containment box lay idle on the seabed as engineers furiously tried to figure out how to stop it clogging with ice crystals.
The British energy giant, which owns the lion's share of the leaking oil and has accepted responsibility for the clean-up, has tried to banish the notion that the dome is a "silver bullet" to end the crisis.
But should efforts fail to make the giant funnel system effective,
there is no solid plan B to prevent potentially tens of millions of gallons of crude from causing one of the worst ever environmental catastrophes.
Untold damage is already being done by the 3.5 million gallons estimated to be in the sea so far, but the extent of that harm will rise exponentially if the only solution is a relief well that takes months to drill.
Admiral Thad Allen, head of the US Coast Guard, suggested they were considering what he called a "junk shot" to plug the main leak.
"They're actually going to take a bunch of debris, shredded up tires, golf balls and things like that and under very high pressure shoot it into the preventer itself and see if they can clog it up and stop the leak," Allen, who is leading the US government's response, told CBS's
Face the Nation
.
This could be risky as experts have warned that excessive tinkering with the blowout preventer -- a huge 450-ton valve system that should have shut off the oil -- could see crude shoot out unchecked at 12 times the current rate.
There are also fears the slick, which covers an area of about 2,000 square miles (5,200 square kilometers), could be carried around the Florida peninsula if it spreads far enough south to be picked up by a special current.
"If this gusher continues for several months, it's going to cover up the Gulf coast and it's going to get down into the loop current and that's going to take it down the Florida Keys and up the east coast of Florida,"
warned Florida senator Bill Nelson.
"You are talking about massive economic loss to our tourism, our beaches, to our fisheries, very possibly disruption of our military testing and training, which is in the Gulf of Mexico," he told CNN's "State of the Union" program.
The BP-leased
Deepwater Horizon
rig sank some 50 miles southeast of Venice, Louisiana on April 22, two days after an explosion that killed 11 workers.
The riser pipe that had connected the rig to the wellhead now lies fractured on the seabed a mile below spewing out oil at a rate at some 5,000 barrels, or 210,000 gallons, a day.
Sheen from the leading edge of the slick has surrounded island nature reserves off the coast of Louisiana and tar balls have reached as far as the Alabama coast, threatening tourist beaches further east.
Sealife is being affected in a region that contains vital spawning grounds for fish, shrimp and crabs and is a major migratory stop for many species of rare birds.
The 2.4 billion dollar Louisiana fishing industry has been slapped with a temporary ban in certain areas due to health concerns from theoretically polluted fish.
BP, facing a barrage of lawsuits and clean-up costs soaring above 10 million dollars a day, had pinned its hopes on a 98-ton concrete and steel containment box that it lowered successfully 5,000 feet (1,500 meters) over the main leak.
"I wouldn't say it's failed yet," chief operating officer Doug Suttles said on Saturday. "What we attempted to do last night didn't work because these hydrates plugged up the top of the dome."
Clearing out the slushy crystals is easy -- the chamber just has to be raised to warmer levels, Suttles told reporters. Keeping the crystals out so that a pipe can be lowered into the dome to suck the oil to a waiting barge is another matter.
BP began drilling a first relief well one week ago, but that will take up to three months to drill -- by which time some 20 million gallons of crude could have streamed into the sea and ruined the fragile ecology of the Gulf.
Rough seas last week hampered efforts to skim the oil from the sea with boats and controlled burns.
Source: Agence France-Presse