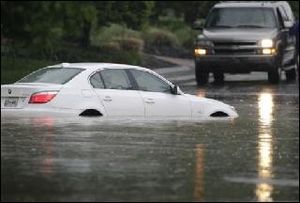 Heavy thunderstorms and flooding have struck the US state of Tennessee, leaving at least eleven people dead and prompting major evacuations.
The unrelenting downpours, which continue to fall after 24 hours, have lifted levels of the Cumberland River in Nashville.
This has led to the closure of inter-state highways and caused dam failures.
The rains have also left some 36,000 houses without power.
The Tennessee Emergency Management Agency has asked the state's Army National Guard for assistance in rescue operations.
"We are still at this point in rescue stage and will be until the water begins to subside," Nashville Mayor Karl Dean said at a press conference on Sunday.
He also urged residents to stay off roads and remain home on Monday.
The Red Cross has meanwhile said it has sheltered some 400 people in 22 camps across Tennessee.
More thunderstorms are expected in the region in the coming days.