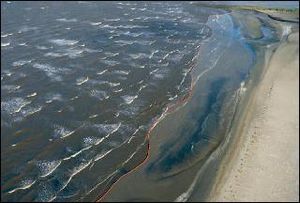 A second oil drilling rig has overturned near Morgan City, Louisiana, after the oil slick from the first accident in the Gulf of Mexico washed ashore.
No injuries have been reported. The overturned rig is unrelated to the oil spill in the Gulf of Mexico that threatens the coast's fragile ecosystem.
US Coast Guard officials are currently investigating reports as fishermen in coastal towns fear for their livelihood.
The oil rig can carry about 20,000 gallons of diesel fuel, but Coast Guard officials do not know how much fuel was on board. Coast Guard investigators say no fuel leaks have been found so far.
About 500 feet of boom has been set up around the rig as a precaution to contain any fuel that might leak.
Florida, Louisiana, and Alabama have already declared a state of emergency.
The spreading oil slick from the first oil rig catastrophe has forced the US administration to rethink plans to increase offshore drilling. The White House has banned oil drilling in new areas off the US coast to step up its response to the worsening situation.