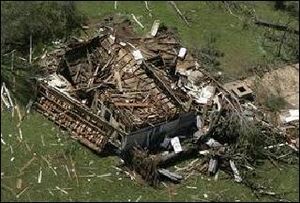 At least three people have died and 35 others have been hurt as several tornadoes leveled homes, overturned vehicles and uprooted trees across central Arkansas.
Spokeswoman for the Arkansas Department of Emergency Management Renee Preslar said on Saturday that the deaths were reported in Van Buren County located 120 km (75 miles) north of Little Rock, where twisters have destroyed three mobile homes and downed power lines.
She added that rescue teams are searching for people who may be trapped in a damaged home in Center Ridge situated 96 km (60 miles) north of Little Rock.
Central Arkansas authorities are currently clearing debris and assessing damage caused by tornadoes.
Forecasters predict severe thunderstorms from northeastern Texas into Ohio and say flooding, frequent lightning strikes, hail, heavy winds and tornadoes are likely.