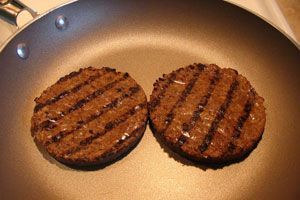 A recent study put out by the Cornucopia Institute (CI) explains the truth behind most processed soy products that are sold as health foods. Many veggie burgers, which are often touted by soy-enthusiasts as being healthier than meat, are actually made from highly processed soybeans that have undergone treatment with hexane, an EPA-registered air pollutant and neurotoxin.
Soy is a fairly recent phenomenon on the American landscape, having emerged as an alleged health food within the past several decades and growing in popularity to epic proportions. Truthfully, soy is merely a cheap crop that industrial agriculture can grow easily and use in a variety of applications.
Many vegetarians swear by veggie burgers, most of which are made by soy, because they believe the fake meat is healthier than animal meat. But actually, most brands of non-organic soy burgers use "textured vegetable protein" and "soy protein isolate", two examples of highly-processed soy product that are used in soy products. And in order to remove the fat from the soy, manufacturers essentially give soybeans a hexane "bath" in order to separate the protein from the oil.
According to CI's senior researcher Charlotte Vallaeys, hexane is very commonly used on non-organic soy products, even ones that appear to be "natural".
"If a non-organic product contains a soy protein isolate, soy protein concentrate, or textured vegetable protein, you can be pretty sure it was made using soybeans that were made with hexane," she explains.
Hexane is a common byproduct of refining gasoline. Exposure to the chemical among those who work with it has caused skin and nervous system disorders. And yet most conventional soybeans are submerged in the stuff and sold as food.
For a full list, please consult the full CI study,
"Behind the Bean"
.
Most conventional soybeans have also been genetically modified, making them even worse for your health. Unless specifically labeled non-GMO or organic, it is almost definite that a soy ingredient is GMO.
Contrary to popular belief, unfermented soy is not particularly healthy, even when it is organic. It contains phytoestrogens that can negatively alter hormonal levels and lead to health problems. Unfermented soy is also difficult to digest and can be rough on the body.
Most Asian countries that are thought to use soy regularly actually use it primarily as a condiment in its fermented form. When soy is fermented, most or all of its toxins are removed, making it safer to consume.
If you do choose to eat soy, be sure it is organic, non-GMO, and hexane-free. And if possible, make sure it is fermented and eat it sparingly.
Sources:
Soy Alert!
- The Weston A. Price Foundation
Which Veggie Burgers Were Made With a Neurotoxin?
- Mother Jones
Behind the Bean: The Heroes and Charlatans of the Natural and Organic Soy Foods Industry
- The Cornucopia Institute