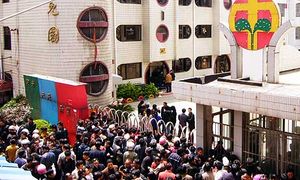 25 pupils injured in knife attack in Jiangsu province, the third targeting children in just over a month
Two young children and three adults are critically ill and 23 other pupils injured after a man burst into a nursery in east China and stabbed them this morning in
the third such attack in just over a month.
Most of the victims were only four years old
, said officials in Jiangsu province. A security guard was badly hurt as he attempted to stop the man and two teachers were injured.
Police detained a 47-year-old suspect, Xu Yuyuan, officials in Taixing city said. They told a press conference that his motive was unclear.
The assault came one day after a knife-wielding man injured 16 pupils and a teacher at a southern Chinese primary school in Leizhou city, Guangdong
. The suspect being held is a teacher from another school who was reportedly on sick leave due to mental health problems. A hospital official has told Xinhua that five of his victims were seriously injured but stable. There are fears that reports are sparking copycat attacks.
Yesterday saw the execution of a man for stabbing eight children to death and seriously wounding five others at a school in Fujian province last month. The murders were described as a revenge attack on a society that Zheng Minsheng believed had let him down.
Professor Pi Yijun, a criminologist at the China University of Political Science and Law, said: "When people read news reporting such cases, those who share the same experience or feelings may choose a similar way to express their dissatisfaction to society."
Experts in other countries have warned that extensive media coverage of major incidents of violence can prompt copycat attacks. Pi said assaults on police increased after a 2008 case in which a Shanghai man killed six officers. The criminologist suggested restrained media reporting and improved school security could help prevent further attacks. But he added: "Creating a platform for people to express their complaints is also very important. If the authorities they go to are unresponsive and they find no channel for expression they will explode eventually."
The state news agency Xinhua reported recently that the education ministry ordered kindergartens, primary and high schools to upgrade security in the wake of the first attack in Fujian. It told schools to include safety awareness into the curriculum, teach children self-defence, hire security guards and ensure younger pupils were escorted home.