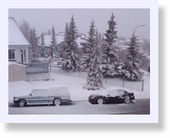 Calgary is forecast to get a blast of 20 centimetres of snow by Thursday evening, one week after basking under sunny 20 C skies. Rain was already turning to wet snow Wednesday in some parts of Calgary, which is under a winter storm warning from Environment Canada.
The agency warned of "dangerous winter weather conditions" for Calgary and surrounding areas, including Airdrie, Sundre, Okotoks, Olds and Strathmore. More than a dozen flights have been cancelled at the Calgary International Airport.
The RCMP said Highway 533, west of Nanton from Highway 2 to 22, is not recommended for travel because of heavy snow and poor road conditions. An intense weather system is also bringing winds gusting up to 70 km/h.
Many people are taking the third major snowstorm in the Calgary area this month in stride.
"If it snows, it snows. That's Calgary. That's spring. You deal with it," said Lyndon Penner, working at the Plantation Garden Centre. "We have been waiting for moisture. I don't really care whether it's snow or rain or three feet of ice. if it's moisture, I'm not going to say no to it."
Wearing a yellow Canada Post poncho, letter carrier Bobby Dhillon was still delivering mail with a smile on his face.
"It's not that bad," he said. "We can still handle that much. That's what we are here for. Postmen should always be smiling."
Snow is expected to be heavier - up to 40 centimetres - along the southern Foothills and in the Lethbridge and Cardston areas.
The rain in Lethbridge has crews busy dealing with blocked catch basins, localized flooding and problems with the storm sewer system. The city is asking residents to ensure downspouts are running away from their homes and sump pumps are working.
The Alberta Motor Association is warning drivers in central and southern Alberta to stay home if possible on Thursday night because of the slick roads and low visibility expected.