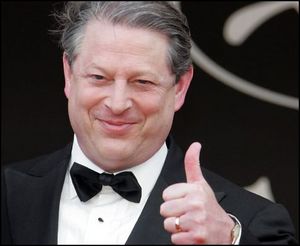 Montreal - Five months after saying the exploitation of the tar sands was "one of the most serious threats to the human race," former U.S. vice-president Al Gore came back to Montreal this week with financial backing from Investors Group, a Power Corporation affiliate that is indirectly involved in Alberta's oil industry.
The man behind the documentary
An Inconvenient Truth
will participate Thursday in an international conference organized during the 2010 Millennium Summit. The event will also include Sarah Ferguson, duchess of York, and actress Kristin Davis of
Sex and the City
fame.
The event's main sponsor is Investors Group, a Power Corp. company owned by the Desmarais family. The Desmarais family and their Belgian partner, Albert Frere, are the largest shareholders in oil company Total,
which hopes to take three billion barrels of oil from the Alberta tar sands over the next 30 years.
During a trip to Toronto at the end of November, Gore said the exploitation of the tar sands is the "largest source of polluting energy on earth" and represents "one of the most serious threats to the human race."
"The oil pulled from the tar sands gives a Toyota Prius the carbon footprint of a Hummer," Gore said at the time, after blasting the Canadian government for its soft position on the exploitation of the tar sands.
Daniel Germain, the president and founder of the Millennium Summit, an international development conference that attracts big-name speakers, said he doesn't know all the issues concerning the tar sands.
"I understand that there is a debate on (the issue) but it is not my debate," he said. "That said, Investors Group has been an extraordinary partner for two years at the summit. It is a very active company in Quebec, very engaged, that supports food banks."
Source: QMI Agency